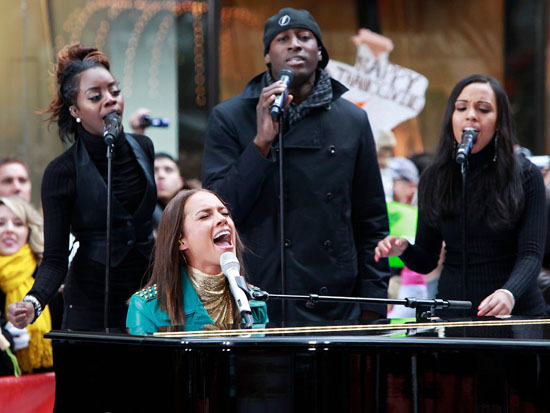 R&B singer/songwriter Alicia Keys performed some songs from her new album The Element of Freedom on NBC's "Today" earlier this morning (Tues Nov 24) in the Rockefeller Plaza outside NBC Studios in New York City.
Alicia says of her fourth studio album:
"You are going to get lost. A lot of it is going to be unexpected for what you probably would think I would do."
Continue reading to check out videos of Alicia performing "No One," "Empire State of Mind," and "Try Sleeping With a Broken" on the Today Show and to see the official track listing for The Element of Freedom, due in stores December 15th.
NO ONE
EMPIRE STATE OF MIND
TRY SLEEPING WITH A BROKEN HEART
01. Element Of Freedom (Intro)
02. Love Is Blind
03. Doesn't Mean Anything
04. Try Sleeping With A Broken Heart
05. Wait Til You See My Smile
06. That's How Strong My Love Is
07. Un-thinkable (I'm Ready)
08. Love Is My Disease
09. Like The Sea
10. Put It In A Love Song (featuring Beyoncé)
11. This Bed
12. Distance And Time
13. How It Feels To Fly
14. Empire State Of Mind (Part II) Broken Down
Published