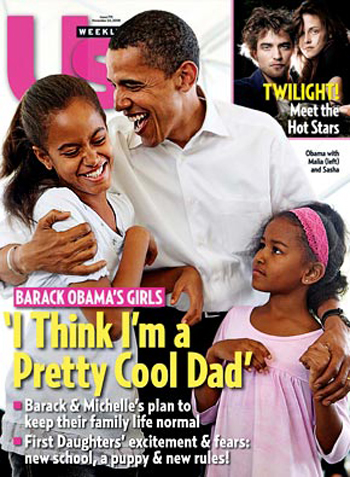 In an article titled, "I Think I'm A Cool Dad!" President-Elect Barack Obama and his girls, Malia & Sasha, share the cover of a recent issue of US Weekly Magazine.
So how will life for this once normal family from Chicago be changing?

Earlier this week, Michelle began visiting potential schools for the girls ahead of the January 20 Inauguration. And even though they'll have a chef whipping up their favorite treats – and a personal movie theater – in the White House, they'll still be focusing on, "homework, chores, dance and soccer," Michelle told Us before the election.

"We have to put [children's] education…first," Michelle has said.

"I think I'm a pretty cool dad," Obama told Us earlier in the campaign.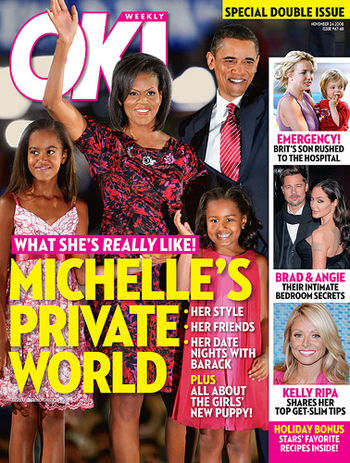 First Lady Michelle Obama and the entire First Family can be seen on the cover of a recent issue of OK! Magazine.
"We try to keep things really normal," Michelle says, adding that she loves a good bake sale. And part of staying normal for this incoming First Lady is knowing how to look good on a budget. Michelle has already thrown style experts off course with her admittance of mostly wearing clothes from the Gap and J. Crew.

[ READ MORE ]