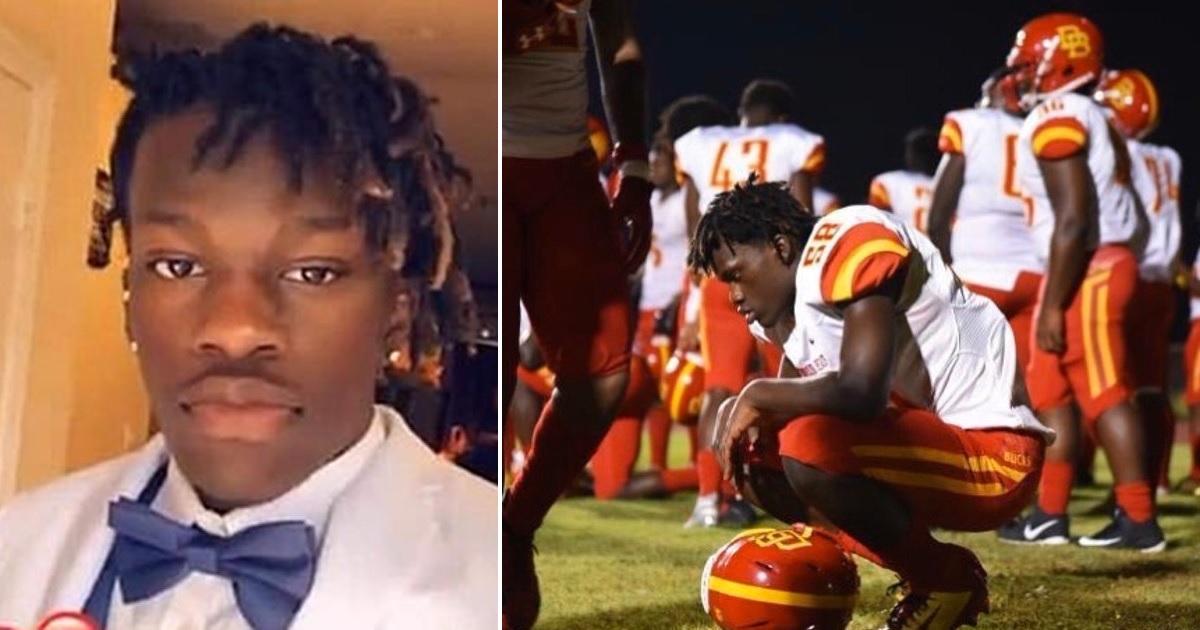 A high school sophomore was shot dead just moments after attending his grandfather's funeral.
15-year-old Terrance Jackson was shot in the neck on Saturday (Feb. 1) across the street from the church where he and his family held a memorial service for his grandfather.
He was transported to a hospital where he was later pronounced dead. He would have turned 16 later this week.
Tronicia Jackson, Terrance's mother, is stricken with grief by the loss of her son.
"My baby didn't do anything. He never hung out on the street. He never ran with the crowd," she told WSVN. "My baby played football, went to school and played video games all the time. He was never that type of kid."
The Florida teen was one of three victims from the shooting. 47-year-old Royce Freeman was pronounced dead on the scene and a woman was treated for non-life-threatening injuries.
While the suspect is still at large, police believe the shooting was the result of a family dispute.
"While the motive for the shooting is still being investigated, it is believed it was a result of a dispute between relatives of the deceased whose funeral had been held," Riviera Beach Police said in a statement.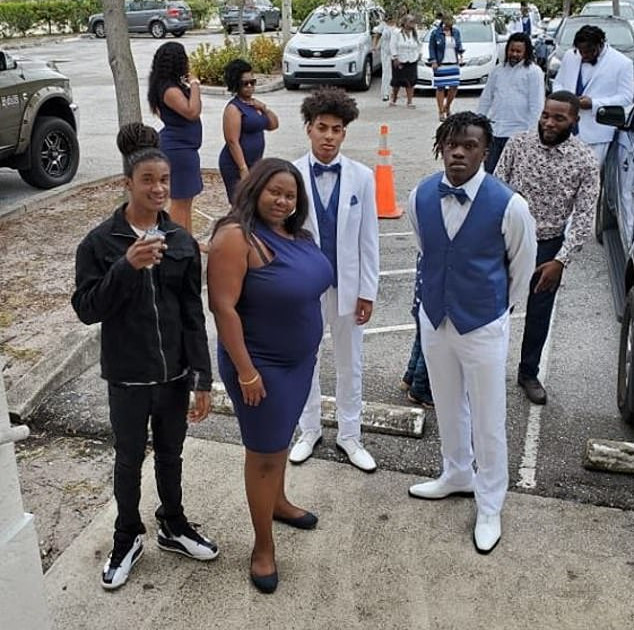 The photo above was taken just 20 minutes before the shooting. Terrance is on the right, wearing white pants and a blue vest.
Victory City Church pastor Tywuante Lupoe revealed on the church's Facebook page that the church was aware of potential violence within the family and ensured there was extra security guards and police posted in the area.
Lupoe says the shooting took place after most of the funeral attendees had left the service and did not occur on church grounds.
However, he also slammed Riviera Beach police for not doing more to prevent the fatal shooting.
Lupoe wrote:
"Riviera Beach Police need to take responsibility too. As a church who serves the community, we called and asked for their assistance before this tragedy took place. We informed them of the potential violence. Our tax dollars should ensure we get what we need in order for our citizens and families can be protected. If we request you be there, be there."
15-year-old Terrance was a rising star on Deerfield Beach High School's football team. He had actually skipped a college tour trip with the team to attend his grandfather's funeral.
"Why God!" the team wrote on Twitter after Terrance's passing.
Why God!??

— Deerfield Beach Football (@DB_BucksFB) February 1, 2020
"He was waiting in the wings," Coach Jevon Glenn said of Terrance. "This year was going to be his year."
So heartbroken! Love you T! Rest easy my boy ? pic.twitter.com/xNa7Nw0pk7

— Coach Adam Bernard (@nopainostruggle) February 2, 2020
Terrance is the second Deerfield football player to die in recent months.
17-year-old Bryce Gowdy, a Georgia Tech football signee, was killed in December after being hit by a train. A medical examiner ruled Gowdy's death a suicide.
A GoFundMe page has been created for Terrance's funeral and family.
Be the first to receive breaking news alerts and more stories like this by subscribing to our mailing list.