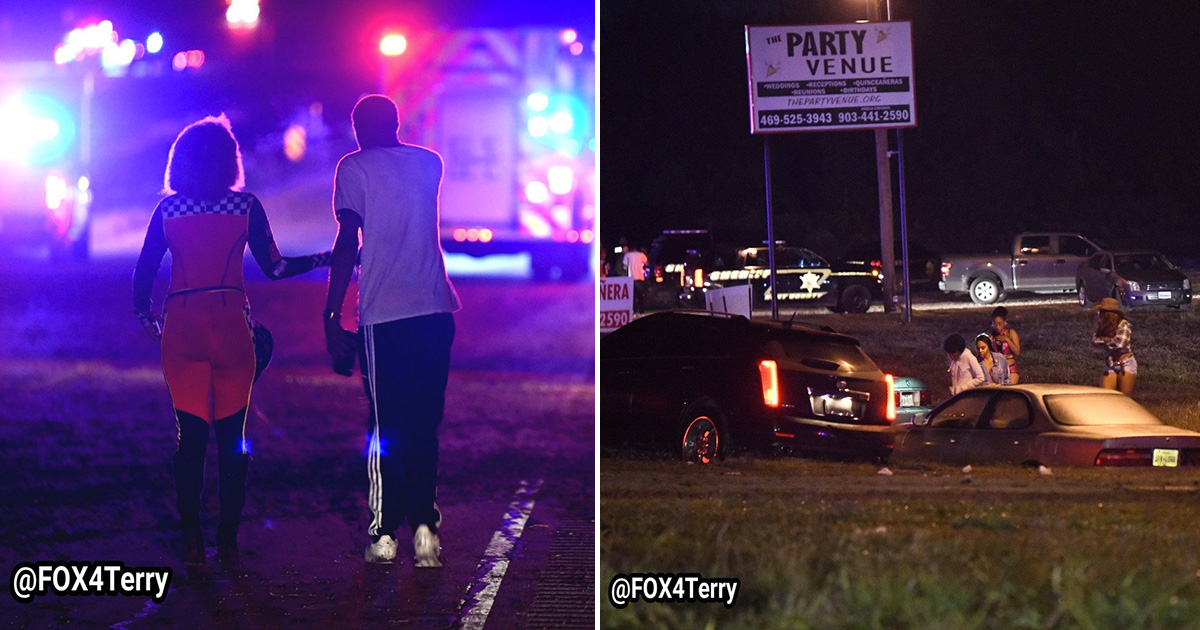 A mass shooting was reported in Greenville, Texas at a homecoming party for Texas A&M University-Commerce students that claimed the lives of at least two people and injured 14 others.
Police and witnesses in Greenville, which is about an hour northeast of Dallas, say the incident happened just after midnight Sunday morning (Oct. 27) at a place called the Party Venue.
According to WFAA-TV reporter Jason Whitely, "at least two fatalities" and more than a dozen injuries were reported. "A .227 caliber rifle is believed to be used," Whitely added. "Motive unknown."
#BREAKING: Mass shooting happened at a Homecoming party at Texas A&M Commerce overnight. At least two fatalities. More than a dozen injured. A .227 caliber rifle is believed to be used. Motive unknown. Commerce, Texas is in Hunt County — an hour east of Dallas. pic.twitter.com/ujtvTYWvAb

— Jason Whitely (@JasonWhitely) October 27, 2019
Police scanner audio revealed officers responded to reports of "multiple people shot" and "multiple victims." One person was shot in the neck, the scanner stated.
Graphic video of the shooting's aftermath was filmed on Snapchat and shared on social media.
Developing: Mass Shooting at Texas A&M Commerce College Homecoming. Scene is secure but murder is still at large as of 1:28am. At least 3 killed 20+ injured. Will Update when we can.

What a nightmare, when will it be enough… pic.twitter.com/2QHcx5rBTX

— Terrence Daniels (Captain Planet) (@Terrence_STR) October 27, 2019
The October 26th Halloween-themed homecoming party, which was held about 20 miles away from the Texas A&M-Commerce campus, wasn't sanctioned by the school, officials said.
Police reported that 8 of the 14 injured victims suffered gunshot wounds, two others were deceased, and four of the injured remained in critical condition at the hospital, while one person was said to be in fair condition.
Police said the victims killed in the shooting were both men. One of the victims has since been identified by his family as 23-year-old Kevin Berry.
#BREAKING Mass shooting at Texas A&M Commerce homecoming party at a venue near #Greenville. Guest say someone with a rifle opened fire. Latest @GoodDayFox4 @FOX4 pic.twitter.com/XWrP9wVOSE

— FOX4Terry (@FOX4Terry) October 27, 2019
Authorities said they didn't know whether the victims killed were Texas A&M-Commerce students, however, they did confirm that about four or five of the wounded victims were students.
Police said no arrests have been made and the suspected gunman, who investigators believe to be a male and hasn't been identified, remains at large.
Hunt County Sheriff Randy Meeks said in a news conference that police don't believe the suspected shooter is a threat to the general public.
"We believe this was a separate incident," he said. "There might have been somebody there who was targeted, we're not for certain, we're still following up on those leads."
Be the first to receive breaking news alerts and more stories like this by subscribing to our mailing list.