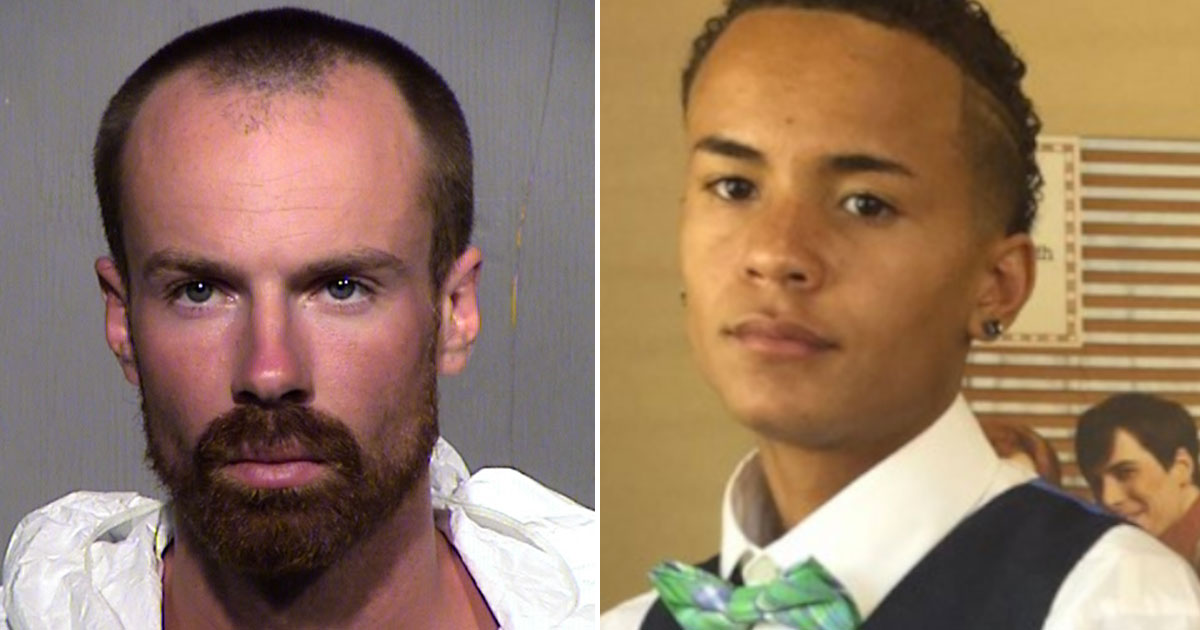 An Arizona man was arrested last week after he was accused of killing an innocent teenager in a brutal stabbing all because he felt threatened by the music the teen was listening to.
27-year-old Michael Paul Adams was charged with first-degree, premeditated murder of 17-year-old Elijah Al-Amin, The Arizona Republic reports.
Adams admitted to stabbing Al-Amin to death around 1:42 a.m. early Thursday morning at a Circle K gas station after he heard the teen playing rap music in his car.
According to the Arizona Department of Corrections, Adams had just been released from prison on Tuesday.
Court records say Adams told police hip-hop music makes him feel "unsafe" because he had been attacked by people who listen to rap music in the past, and he also said that people who listen to rap music are a threat to him and the community.
Adams said he felt threatened by the music, not the teen himself, so he needed to be "proactive rather than reactive."
Al-Amin had just finished his shift at Subway at 11:30 p.m. and met up with his girlfriend. On his way home, he stopped at the Circle K just after 1:40 a.m.
Surveillance footage from the store shows Elijah Al-Amin walking into the building and Adams following behind a few seconds later.
Adams then walked around the store before lunging at the teen and using a pocketknife to stab the boy in the back before slitting his throat, police records show.
The teen ran out of the store before collapsing near the gas pumps. He was taken to a nearby hospital, but was pronounced dead around 2:05 a.m. Thursday, authorities said.
After a brief search, Adams was found near the Circle K covered in blood, and police arrested him after he admitted to being involved in the horrific stabbing.
Elijah's father said he told his son not to come home late, so he became worried after he didn't hear from him for several hours.
"2 o'clock came, 3 o'clock came, 4 o'clock came, I kept calling, calling, calling, texting, texting, texting, and I wasn't getting a response," Elijah's dad told KHOVA News. "I just had a feeling that something wasn't right."
Al-Amin's father said he went to his son's girlfriend's house and asked her if she knew where he was. That's when he found out his boy had been stabbed and was rushed to a hospital.
"You took a helluva kid," he said when asked if he had a message for his son's killer.
Elijah's dad described him as a "good kid" with "so many dreams" he wanted to accomplish.
"He wanted to be in hotel management, he wanted to move to Seattle, he wanted to move different places," Elijah's dad said.
"I miss my son," Elijah's father added, fighting back tears. "He was a good kid, very good kid, always willing to help kids, help people in general. Always happy go lucky…"
Michael Adams was booked into a Maricopa County jail and is being held on a $1 million bond.
Elijah Al-Amin would have turned 18 in two weeks, his dad said.
Be the first to receive breaking news alerts and more stories like this by subscribing to our mailing list.