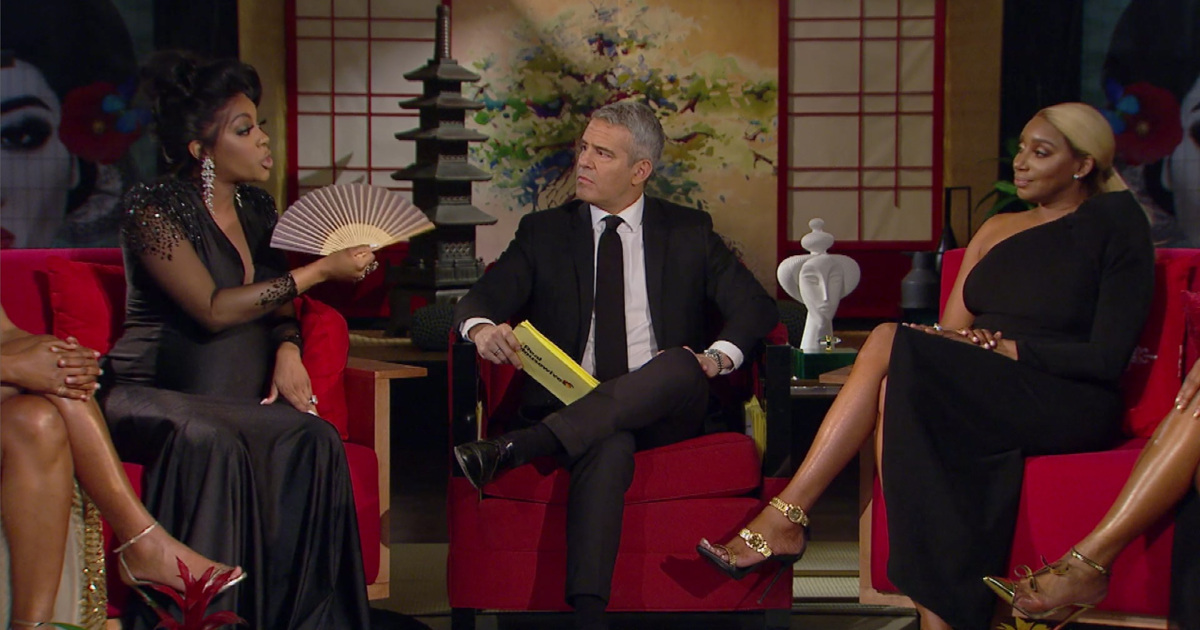 Emotions ran high (and low) during the Real Housewives of Atlanta reunion causing Porsha Williams to completely go off on NeNe Leakes for her "nonchalant" attitude.
Part two of the season 11 RHOA reunion aired Sunday night (Apr. 14). Throughout the episode, a checked out Leakes sat on the couch unbothered by her castmates as they aired their grievances with her.
But when the sole OG housewife stated that no one showed her support while she struggled as the caretaker of her ailing husband, Williams snapped.
"Honestly, I would love to sit here and just be as nonchalant and just not give a f**k as NeNe is being right now, but the fact of the matter is, when we found out [about Gregg's cancer], we were there for you, and we genuinely pray for you and your husband."
Even though Leakes didn't even try to make eye contact, Williams continued: "Your main issue is you don't know how to accept the support from your friends."
During part one of the reunion, Leakes repeatedly stated that she no longer considered Williams—or any of the other "housewives" for that matter—a friend.
A pregnant Williams unleashed and let it be known during part two how hurt she was by Leakes' words and attitude.
"And then at this point, now where we are is f**k all of us. That sh*t is hurtful!

"That makes me feel like any experience I have ever had with you was fake. For you to sit here and say, 'No, I didn't get you a gift,' and 'No, you're not my friend' … You have sat here and told me so many times since we've been on this couch—which is brand new to me—that we are not friends. Okay?

"So just understand that what you're doing, you think it's all nonchalant and cute, but that sh*t f**king hurts because me and my fiancé have prayed for you. And my mother! All of us!

"So, the fact that you will sit here now and give a big f**k you to all of us is very f**king hurtful. I cannot leave this damn couch without saying that."
Host Andy Cohen turned to Leakes to get her reaction to Williams' emotional speech. Leakes looked directly into Cohen's eyes and said, "No response."
Shocked at Leake's cold demeanor, Cohen attempted to transition into the next topic—"Closetgate."
"Did something happen with your belt?" Cohen asked Williams. And almost immediately, Leakes jumped in to shut Cohen down.
"I'm not gonna beat this thing, okay? It was a breakdown, okay?" Leakes said. "And I don't feel like I need to sit up here and be like, 'I had a breakdown! I had a breakdown!' You saw me have a breakdown. I don't have to be sorry for having a breakdown. I am human. I had a natural breakdown, okay?"
RHOA Viewers know that "Closetgate" refers to an incident that occurred when Williams and Kandi Burruss barged into Leakes' closet without her permission. The invasion of privacy caused an alleged off-camera alteration between Leakes and a pregnant Williams.
Cohen again tried to broach the topic, but Leakes wasn't having it.
"Don't keep bantering back and forth with me about it, okay? Do not keep pushing me over it, okay? Don't," she said sternly.
The Andy-NeNe showdown and the discussion of Closetgate will conclude next Sunday (Apr. 21) on the final reunion episode.
It was obvious from the beginning of part one that Leakes had no interest in doing the reunion with "those girls." She was emotionally detached and made several digs at Williams and Cynthia Bailey, the two housewives with whom she's (supposed to be) closest.
And also, we need to applaud Porsha Williams for calling Leakes out, as well as for her personal growth. The then-mom-to-be handled the situation perfectly. She used her words—not her hands—and was genuine while addressing Leakes.
Unfortunately, NeNe was unable to receive it.
Be the first to receive breaking news alerts and more stories like this by subscribing to our mailing list.