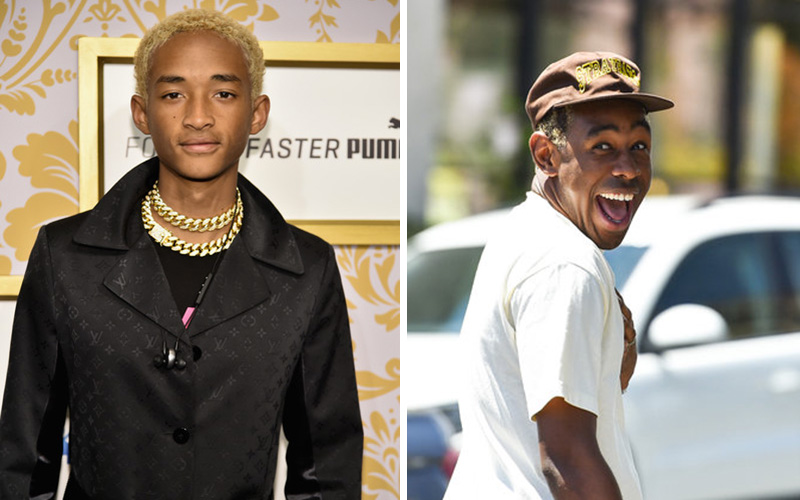 While performing at the Camp Flog Gnaw music festival in Los Angeles Sunday night (Nov. 11), Jaden Smith made a rather interesting announcement.
Speaking to the crowd, Jaden said that Tyler the Creator is his "boyfriend."
"I just wanna say Tyler the Creator is the best friend in the world and I love him so f***ing much," Smith said into the microphone. "And I wanna tell you guys something. I wanna tell you … Tyler doesn't wanna say, but Tyler's my motherf***ing boyfriend! And he's been my motherf***ing boyfriend my whole f***ing life!"
Smith added, "Tyler the Creator is my f***ing boyfriend! It's true!" He concluded: "Tyler the Creator is my f***ing boyfriend. OK? You take anything away from this f***ing show, that's what you need to take away."
Fans managed to capture Jaden's speech on film, and in one video, the camera pants to Tyler, who wagged his finder, looked at the crowd and shook his head "no" while laughing.
Following the performance, Jaden wrote on Twitter: "Yup @tylerthecreator I Told Everyone You Can't Deny It Now."
https://twitter.com/officialjaden/status/1061916953101524992
After seeing Jaden's message, Tyler replied: "hahaha you a crazy n***a man."
While Tyler's reaction seems to suggest Smith was joking, it isn't clear whether Smith was up to his usual crazy antics or genuinely announcing a romantic relationship.
Neither Smith nor Tyler have explicitly labeled their own sexualities, with Smith being known for embracing gender-fluid fashion and Tyler calling himself gay and alluding to "coming out of the closet" on Twitter on multiple occasions.
I TRIED TO COME OUT THE DAMN CLOSET LIKE FOUR DAYS AGO AND NO ONE CARED HAHAHHAHAHA

— Tyler, The Creator (@tylerthecreator) April 13, 2015
NOT POSSIBLE, WE'RE BOTH GAY https://t.co/xoCXLyThPv

— Tyler, The Creator (@tylerthecreator) August 16, 2016
CANT SLEEP; IN EUROPE ; BEEN DRAWING STUFF pic.twitter.com/ilqQbOhwiX

— Tyler, The Creator (@tylerthecreator) July 4, 2016
Tyler seemed to have confirmed his queerness on his 2017 album "Flower Boy."
On "I Ain't Got Time!" he rapped: "Next line will have 'em like 'whoa' / I've been kissing white boys since 2004." And the whole second verse of "Garden Shed" addresses him basically hiding in the closet.
Be the first to receive breaking news alerts and more stories like this by subscribing to our mailing list.