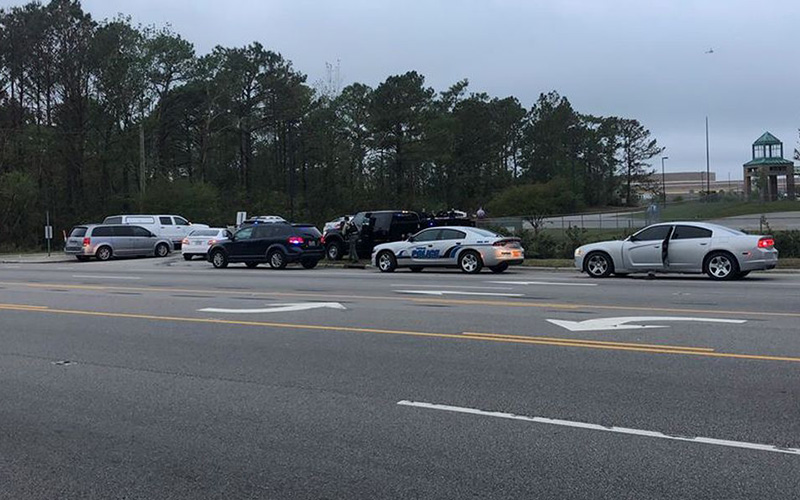 UPDATE (08:47 A.M. ET): False alarm! A malfunctioning water heater that makes a sound similar to gunfire caused active shooter reports at a North Carolina High School Friday morning (Nov. 9).
Commissioner George Brown said a piece of equipment at the school that has been malfunctioning in recent days and it sounds like gunfire when it makes noise. This has been going on for several days and is being investigated as a source. Regardless, officials are taking the situation very seriously to ensure everyone's safety.

Pender County Emergency Director Tom Collins said he also believed a malfunctioning water heater caused a gunfire noise and that the sheriff's office is expected to hold a news conference soon.

"I was sure it was not gunfire over an hour ago," said Commissioner David Williams, who is also the assistant coach for the varsity football team. "I also coach football there. Lately (during practice), we've been hearing a piece of mechanical equipment go 'bam bam bam.' It made us the first time we heard it turn around."

Williams said he has heard the sound personally and can understand how someone might hear it and make a report. He thinks it could be a remnant problem from Hurricane Florence, explaining the sound is up high, near the roof line and faces the back of the building.

"Obviously I was worried," Williams said. "My son goes to school there. My daughter just graduated."

Williams believes the law enforcement response was 100 percent correct. There are a lot of kids on campus in the morning for practice.

"They did exactly the right thing. Law Enforcement did what they're supposed to do," Williams said. "There's no such thing as an over response."
This is good news, as this would have been the second mass shooting in the United States within 48 hours. Hopefully, they get that water heater fixed ASAP though!
---
ORIGINAL STORY BELOW:
Police in Pender County, North Carolina responded to reports of an active shooter at Topsail High School Friday morning (Nov. 9).
According to Captain James Rowell with the Pender County Sheriff's Office, it is still an active shooter scene. Rowell said there are no reported injuries as of 7 a.m. EST, WECT reports.
Topsail High School is located on Saint Johns Church Road in Hampstead, North Carolina, just north of Wilmington.
According to the school's website, Topsail High School has a population of about 1,400 details.
No other details about the active shooter reports are available at this time.
Originally Published: 7:43 A.M. ET
Be the first to receive breaking news alerts and more stories like this by subscribing to our mailing list.