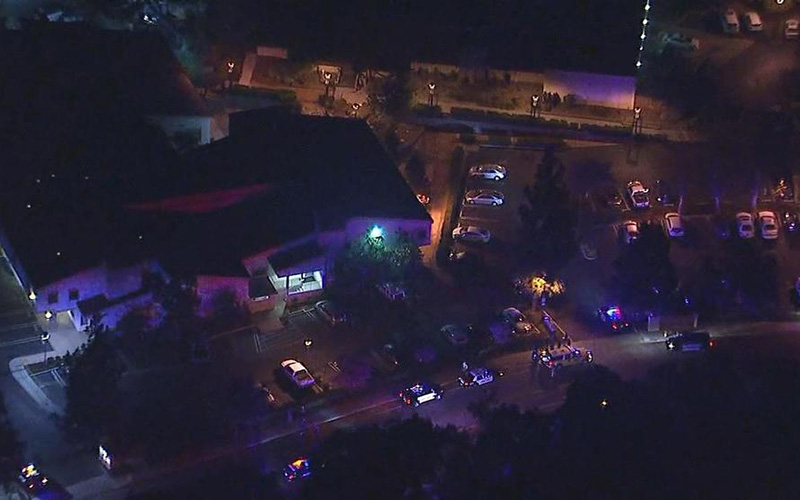 A gunman opened fire on multiple people at a country music bar in Thousand Oaks, California Wednesday night (Nov. 7), killing at least 12 people, including a sheriff's deputy, and injuring several others.
The shooter, whose name has not yet been released, was reportedly found dead inside the venue with a self-inflicted gunshot wound.
The sheriff's deputy who was fatally wounded was identified as Ron Helus, a 29-year veteran of the Ventura County Sheriff's Office.
Police said "at least 200 people" were inside the Borderline Bar, which was hosting a "college country night" gathering for students.
Ventura County Sheriff's Sergeant Eric Buschow told reporters on the scene there were "multiple fatalities." Captain Garo Kuredjian said he could not comment on the status of the victims, however, the number of victims was expected to rise.
Among the victims was a Ventura County deputy sheriff, a doorman, a cashier and college students. The lifeless body of a suspected male victim was seen on KABC-TV helicopter video outside the bar.
Captain Kuredjian said there was no immediate threat to the public and homicide investigators are at the scene investigating.
The gunman—reportedly dressed in all-black, wearing a trenchcoat, glasses, a baseball cap and a mask covering the bottom part of his face—opened fire at around 11:20 p.m. (2:20 a.m. ET Thursday).
One officer was injured when he arrived at the scene with colleagues and "attempted to neutralize the threat," Capt. Kuredjian said.
One woman, who didn't give her name, said she was inside the bar when she heard "a lot of gunshots."
"We dropped when we heard the gunshots," she told MSNBC. "I looked behind me and there was a smoke bomb going off."
Witnesses said the shooter fired at least 30 shots from a pistol with extended mags and threw smoke grenades.
One witness, a man named John Hedge, told ABC 7: "I was at the front door talking to my stepdad. I just started hearing these big pops. Pop, pop, pop. There was probably three or four and I hit the ground. I look up and the security guard was dead. Well, I don't want to say he was dead, but he was shot. He was down, and the [shooter] had a handgun. He threw in smoke grenades all over the place and he kept firing. I saw him point to the back of the cash register…and he just kept firing. I ran out the front door."
KABC-TV interview with eyewitness whose stepson was inside Borderline bar.

KABC live coverage: https://t.co/KRlguIpI2p pic.twitter.com/euvas754Ym

— Matthew Keys (@MatthewKeysLive) November 8, 2018
Hedge's stepfather, Tim, told the news station, "He fired the first shot. I knew it was live. I knew it was real. My son thought it was a joke so I pulled him down and got some cover. I looked up and he was moving to the right. He shot the front doorman, who was just a young man. Then he shot the cashier, just a young girl. Then he started moving to the right. He wasn't looking at us. Then he went into the office, where all the cash and stuff is. He didn't say anything at all. He just started shooting."
"I thought it was a joke when the shots started firing. I know people there. I hope everybody's OK. I don't know how I didn't get shot," John Hedge told KABC.
Another witness said: "This maniac came in. Threw in smoke to confuse people and opened fire on the dance floor. He's taken many young lives."
According to news reports, people were hiding from the shooter in bathrooms and attic spaces in the bar, while others who managed to escape the venue ran to nearby gas stations for medical help. Some people reportedly had to use chairs to break windows inside the bar to escape.
Mitchell Hunter, 19, of Simi Valley, has bloodied hands after breaking a window with a chair to get out of Borderline after he heard shots on the dancefloor. #Borderline #Borderlineshooting pic.twitter.com/x3MX1rkNDf

— Jeremy Childs (@Jeremy_Childs) November 8, 2018
The Los Angeles Times reported that one woman was in the front of the restaurant with more than a dozen friends when the gunman came in and started shooting at the ceiling. She said a friend threw her onto an outdoor balcony so that she could escape. She said she was afraid some of her friends were still inside the bar.
From the scene: Witnesses console one another across the street from the Borderline Bar & Grill and talk to law enforcement. pic.twitter.com/eVD8DbjNib

— Los Angeles Times (@latimes) November 8, 2018
Witnesses have said that many people at the bar also attended the Route 91 country music festival in Las Vegas in October 2917, where the worst mass shooting in modern U.S. history claimed the lives of 58 people and injured 851 others.
"A lot of people in the Route 91 situation go here," 23-year-old Chandler Gunn told the L.A. Times. "There's people that live a whole lifetime without seeing this, and then there's people that have seen it twice."
Carl Edgar, who came to the scene after hearing about the shooting, told the Times: "As far as I know, all of my friends are OK, safe. There are a few people we can't get a hold of, but in these situations people usually turn off their phones to be safe so I'm not gonna get too worried. A lot of my friends survived Route 91. If they survived that they'll survive this."
Captain Kuredjian said it's been a while since shots were fired in the city. He said the area is safe and shootings are a very unusual occurrence. In fact, Business Insider called Thousand Oaks, which is about 40 miles west of Los Angeles, the third-safest city to live in in the United States.
Be the first to receive breaking news alerts and more stories like this by subscribing to our mailing list.