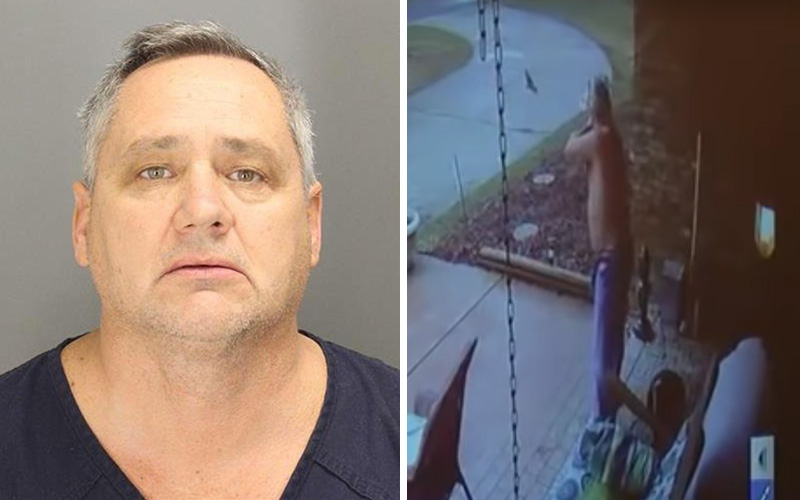 A white man who shot at a black teen who was asking for directions was found guilty of assault by a Michigan jury.
Jeffrey Zeigler was arrested in April for firing his gun at 14-year-old Brennan Walker, who had gotten lost on his way to school and was asking for directions.
The incident, which sparked national outrage, was recorded on Zeigler's home surveillance system, and the footage was shown by prosecutors to a jury on Thursday, October 11th.
The next day, the jury found Zeigler guilty of assault with intent to do great bodily harm less than murder and possession of a firearm.
Zeigler was standing on trial for a more serious charge, assault with intent to murder, but the judge gave jurors the option of convicting him on the lesser charge.
Back in April, Brennan Walker had missed his school bus and tried to walk the four miles from his bus stop to Rochester High School, which is about 29 miles outside of Detroit.
Along the way, he got lost and started knocking on doors of nearby houses to get directions before eventually stopping at Zeigler's house. He didn't have his cell phone to help guide him because his mother had taken it the night before as punishment.
After knocking on the door, Brennan says a woman in the house (Zeigler's wife) started yelling at him and accusing him of trying to break into the home. "She was like, 'Why are you trying to break into my house?' I was trying to explain to her that I was trying to get directions to Rochester High," Brennan told Fox 2 Detroit at the time.
Moments later, Zeigler came to the door armed with a shotgun, and Brennan took off toward the street after spotting the weapon. As he ran away, Zeigler fired a shot at the teen.
Afterward, Zeigler claimed he never intended to fire the gun, telling police that the gun accidentally went off after he fell backward and his finger hit the trigger. However, the surveillance footage from Zeigler's home, which was shown to the jury at the trial, directly contradicted Zeigler's account of events.
The video actually shows a shirtless Zeigler raising his weapon and taking a few seconds to aim at Brennan before firing a shot. The recoil from the shot sent Zeigler back. Fortunately, Zeigler's one shot missed, and Brennon said that that he was happy he didn't "become a statistic."
"My mom says that black boys get shot because sometimes they don't look their age, and I don't look my age. I'm 14, but I don't look 14," Brennan said.
Brennan's mother, Lisa Wright, says race definitely factored into the incident and she considered Zeigler's actions a hate crime.
"One of the things that stands out, that probably angers me the most is, while I was watching the tape, you can hear the wife say, 'Why did "these people" choose my house?'" Wright told Fox 2 Detroit. "Who are 'these people?' And that set me off."
During his defense testimony, Zeigler said he didn't try to see what Brennan was doing at his door because the scene was "so chaotic." He said, "I was concerned about my wife. I was concerned that someone was coming through the door."
Of course, the surveillance footage showed Brennan waiting patiently on the porch, barely moving until he ran off after seeing Zeigler's shotgun.
Around the time of the incident, Zeigler's lawyer said the man, who is a retired firefighter, and his wife had been on "high alert" for possible break-ins after their home had been broken into several times before.
"He has given his whole life to the business of saving lives," defense attorney Robert Morad said in April. "He has no signs, no history of racism. If there were any racial issues, he wouldn't have spent his career working in the city of Detroit."
Morad said the Zeiglers had been victims of home invasions four times, including once by a "neighborhood kid" who was subsequently convicted, however, that doesn't give Zeigler the right to be trigger happy.
Zeigler's attorney said his client's conviction of the lesser charge of assault with intent to do great bodily harm showed that the jury didn't believe that he intended to kill Brennan … EVEN THOUGH HE SHOT AT HIM WITH A FRIKKIN' SHOTGUN.
Jeffrey Zeigler could face up to 10 years in prison for the assault conviction, plus a mandatory two years for the firearm charge. His bond was revoked and he was ordered to jail until his sentencing on November 13th.
Be the first to receive breaking news alerts and more stories like this by subscribing to our mailing list.