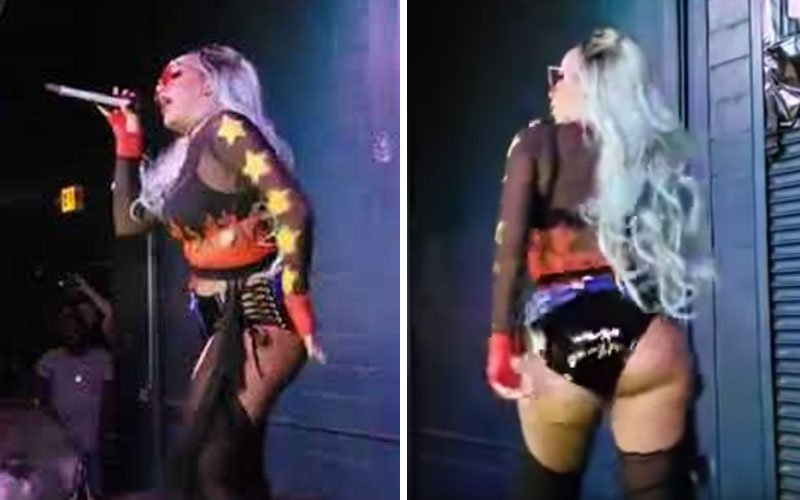 Doja Cat recently performed her viral hit "Mooo!" for the first time, and fans immediately noticed something about her appearance.
THAT GIRL THICK THICK!
Someone who attended her show in San Antonio, Texas last Sunday (Sep. 16) was kind enough to upload video footage on YouTube, and if you read the comments, everyone pretty much saw the same thing: Doja Cat is THICKA THAN A SNICKA.
"Like I've said before and I'll say again, she thick like a 'milk shake' Mooooooo," wrote YouTube user Predator13. "Oh we didn't know she was DOUBLE CHEEKED UPPP, DOJA CAME OUT PACKIN A WAGOOONNNNN," said John Nieto.
Kenneth Shyne said, "Doja Cat out here thicker than frozen peanut butter." Iceewitdaspice e wrote: "She's making her bag and having fun that's all that matters … We love a thic queen."
In case you didn't know, Doja Cat isn't new to this music thing. She's been releasing songs and performing for years, but "Mooo!" recently made her a household name because of its catchiness and how infectious it is.
She came under fire last month after someone uncovered some old tweets from 2015 showing her using a homophobic slur. Her nonchalant response to the drama didn't go over well with some people, so he had to apologize again, and then she deleted that lengthy apology and rewrote a much shorter version.
"I apologize for the derogatory terms I've used in the past and no one should be discriminated against for their race, religion, or sexual orientation," she wrote. "I love you and I hope to make more great music with and for you in the future. Thank you."
Doja Cat is currently headlining the Amala Tour, which kicked off on September 11th in Houston, TX. The trek has already seen dates in Dallas, Austin, San Antonio, Phoenix, Las Vegas, Los Angeles and more, with upcoming dates in Vancouver, Salt Lake City, Denver, Chicago, Detroit, Atlanta and more.
Click here to see if Doja Cat will be coming to a city near you and to buy tickets.
Be the first to receive breaking news alerts and more stories like this by subscribing to our mailing list.