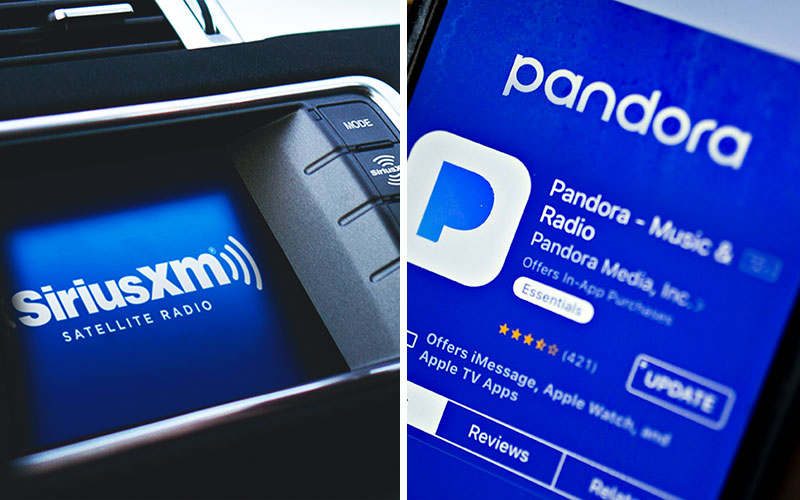 These days, digital music streaming is business, and the satellite radio service SiriusXM wants in on it. So, instead of building their own platform from scratch, they are putting up $3.5 billion to buy Pandora in an all-stock deal to battle heavyweight streaming rivals Spotify and Apple Music.
Sirius XM, controlled by media mogul John Malone's Liberty Media Corp, has built a name supplying more than 175 channels to car drivers, but has largely trailed Pandora and Spotify Technology SA (SPOT.N) in mobile and streaming content.

Monday's deal gives the pair a market value of about $34 billion, topping Spotify's $31.2 billion and follows through on Sirius' purchase of a 15 percent preferred-stock stake in Pandora for $480 million last year.

Shares in Pandora, which has posted losses for at least the past eight quarters, initially soared 18.4 percent to $10.75 in premarket trading, topping an offer value of $10.05 based on Sirius' Friday closing price. Sirius shares, however, fell 5 percent to $6.63 as investors worried the company had overpaid.

The deal, worth $2.68 billion at that offer price, is expected to generate more than $7 billion in expected pro-forma revenue in 2018. Analysts said the two businesses were largely complementary.

"SIRI cannot offer on-demand radio, and cannot offer customization, and Pandora offers both," said Michael Pachter, an analyst with Wedbush Securities in Los Angeles. "Sirius can merge Pandora's radio business into its satellite subscription business, and can also begin to offer on-demand to its large installed base of satellite subscribers."

Pandora shareholders will receive a fixed-exchange ratio of 1.44 newly-issued SiriusXM shares for each share they hold. The transaction is expected to close in the first quarter of 2019.
This acquisition is interesting, considering Pandora, which launched as "Savage Beast Technologies" way back in 2000, was the first big player in the music streaming business, however, they failed to capitalize on that advantage in a way that could produce a nice profit.
Despite tough competition from other music services such as Spotify and Apple Music, Pandora had nearly 6 million paid subscribers as of May. Roughly 71 million people use Pandora's free, ad-supported service.
Meanwhile, SiriusXM currently has roughly 36 million paid subscribers in North America, and Pandora's large listener base of 77 million users will be a welcome addition to SiriusXM's business. The combined company will tout more than 100 million listeners.
"We have long respected Pandora and their team for their popular consumer offering that has attracted a massive audience, and have been impressed by Pandora's strategic progress and stronger execution," Sirius XM's chief executive Jim Meyer said in a statement.
"We believe there are significant opportunities to create value for both companies' stockholders by combining our complementary businesses. The addition of Pandora diversifies SiriusXM's revenue streams with the U.S.'s largest ad-supported audio offering, broadens our technical capabilities, and represents an exciting next step in our efforts to expand our reach out of the car even further," Meyer said.
SiriusXM said there won't be any changes to its satellite offerings or to Pandora subscriptions right now, however, that could change in the future. The two services will also reportedly keep their individual brands, though that might become an issue for the company later on down the road.
"The powerful combination of SiriusXM's content, position in the car, and premium subscription products, along with the biggest audio streaming service in the U.S., will create the world's largest audio entertainment company," Pandora CEO Roger Lynch said in a statement. "This transaction will deliver significant value to our stockholders and will allow them to participate in upside, given SiriusXM's strong brand, financial resources and track record delivering results."
Be the first to receive breaking news alerts and more stories like this by subscribing to our mailing list.