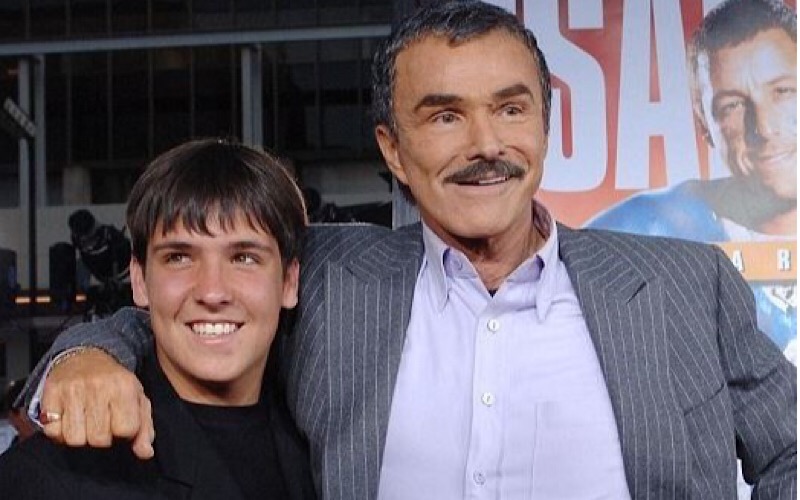 Burt Reynolds, a legendary movie star from the 1970s and 1980s, has died. He is survived by his only child, his 30-year-old son, Quinton Anderson Reynolds.
Despite Reynolds being one of the most successful movie stars in the world, he has said that his son was the most important thing in his life, and was the one thing he was the most proud of.
"He is my greatest achievement," Reynolds told Closer Weekly this past July. "He's a wonderful young man and is now working as a camera assistant in Hollywood. He never asked for any help with his career, he did it all himself, and I'm so proud of him. I love him very much."
Quinton has been shielded from the mainstream media, so much isn't known about him. He doesn't appear to have any social media accounts. He spent his early years growing up in Florida, but moved to California with his mom after her split from Reynolds, where he still lives to this day.
Quinton was adopted by Reynolds and his second wife, Loni Anderson, whom he was married to from 1988 to 1993. Reynolds announced the adoption in The Palm Beach Post.
Anderson's publicist, Mickey Freeman, told the outlet at the time: "It is true. They are waiting for the baby to be born. My understanding is that it could be any day." Quinton was born at a California-area hospital in 1988.
Reynolds and Anderson always wanted to have a biological child of their own, but never did.
"I love kids," Anderson told the New York Daily News back in the 1980s. "If I had been with the right man when I was younger, I'd have had four."
Reynolds was 52 years old when he and Anderson adopted their son Quinton.
"Burt… asked me if at 52 he'll be able to get used to the noise of a child. I told him it's gradual," Anderson told the New York Daily News.
After his parents divorced, Quinton lived with his mom in California, but he would often travel to Florida to spend time with his dad. During those visits, Loni Anderson insisted that a nanny always be present.
"I'm concerned about Burt's erratic behavior … Quinton is small and I want him to be protected," Anderson told SF Gate back in 1995.
Burt and Quinton went through a rough patch when Burt and Loni divorced. But they were able to get through that difficult time and became very close in subsequent years.
"There's nothing I can do about things that weren't happy or good. I just try not to dwell on those. Regrets are not healthy — it's best to try and let go of those things that can't be changed," Reynolds told Closer Weekly. "All of my experiences made me who I am today, and I'm grateful for the positive ones. I don't think of my past as anything negative, and if it is negative, I've forgotten it."
Reynolds and Anderson's divorce was hella messy and was considered one of the ugliest celebrity divorces of all time.
It took a while for Reynolds and Anderson to move on, but, after some time, they were eventually able to go their separate ways.
Anderson told Entertainment Tonight in 2014: "You just need a break after. If it's a messy divorce, then you need a break and you go back and you go, 'Well there wasn't 12 terrible years. There was just that end.' So you go back and start thinking, 'Oh, I remember that! Oh, we laughed so hard! Oh, that was so fun!'"
Be the first to receive breaking news alerts and more stories like this by subscribing to our mailing list.