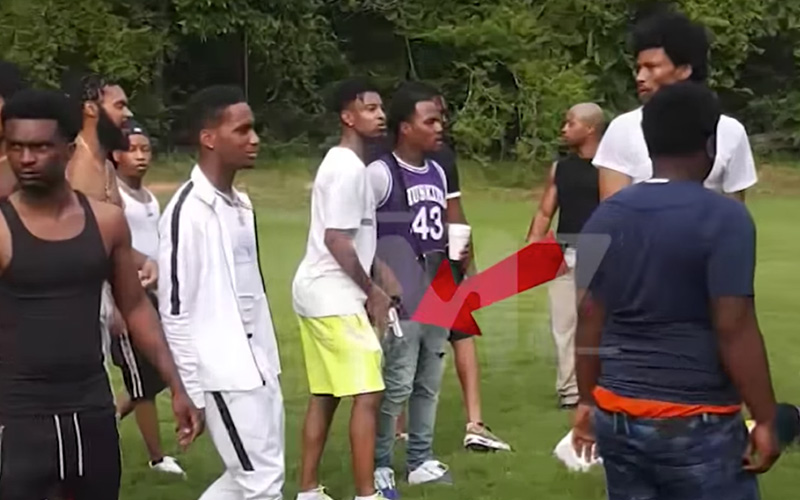 Video footage has surfaced showing 21 Savage brandishing a pistol during a recent pool party.
While 21 Savage seems like he's been moving away from the streets in recent times, it looks like he's still one step away from reminding the world he's still about that thug life.
According to TMZ, 21 and his crew were attending an annual pool party in Atlanta officially dubbed the "Big Ass Pool Party" when suddenly a large group of people crashed the event.
After one of the party crashers hurled an insult at a girl in 21's group, all hell broke loose. The video from the hectic scene shows people throwing blows, with one man getting laid out in the grass.
In response to the man getting knocked out, one of the crashers reportedly pulled out a weapon, which prompted 21 to get his gun too. In the video clip, you can actually see 21 walk over to his friend wearing a satchel and take the revolver from him.
WATCH HERE:
Thankfully, no shots were fired and no one was seriously injured, other than the guy who got knocked out, of course. Cops eventually arrived and shut the party down. No arrests were made, according to reports.
This video is a far cry from the 21 Savage we've been hearing about recently. In response to the Pusha T and Drake Beef, Savage mimicked Rodney King's sentiments, calling for rappers to just get along and "kill all this beef."
I wish everybody come together and kill all this beef They want us to kill each other especially now since we young and rich

— Saint Laurent Don (@21savage) June 4, 2018
He also delivered some helpful financial advice to his fellow rappers, advising them to invest their money and give back to underprivileged communities instead of buying a bunch of jewelry. He said in an interview with Vogue, "Ever since I've been saving money and not spending it on jewelry, I've been getting way richer."
Be the first to receive breaking news alerts and more stories like this by subscribing to our mailing list.