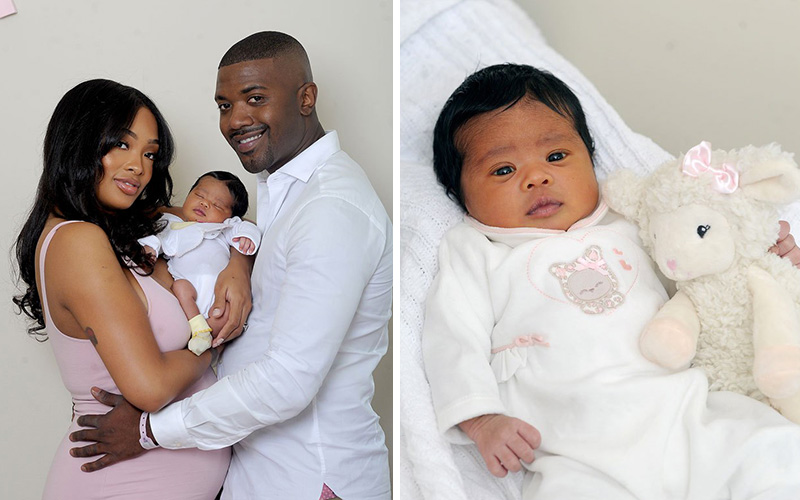 Ray J and Princess Love welcomed their first child together, a beautiful baby girl named Melody Love Norwood, on Wednesday, May 23nd, 2018, and now the couple is showing off the first photos of their newborn daughter.
The Love & Hip Hop Hollywood stars released the photos of their daughter via OK! Magazine and Instagram.
https://www.instagram.com/p/BjeBUYOBcfQ/?hl=en&taken-by=rayj
"This was one of the most incredible experiences of my life," Ray told OK! exclusively after Melody's birth. "I'm so glad my daughter is finally here! And I can't wait to begin life as a dad."
According to OK!, Princess was in labor for 24 hours and the whole experience was captured by VH1 cameras for a future Love & Hip Hop Hollywood baby special to air this summer.
Check out the first photos of Baby Melody and her nursery below:
Months before Baby Melody made her big arrival, reports emerged that Ray J was cheating on his pregnant wife with another woman.
Princess Love shared a cryptic message on Instagram that read, "The problem is women think he will change, he won't. And men make the mistake of thinking she will never leave, she will." She captioned the photo: "Keep foolin the world but you can't fool me anymore."
She also shared a since-deleted tweet hinting at some behind-the-scenes drama: "If you're going to stay with a man, do it because that's what you truly want. Never stay because of children… When they grow up, then what???" She said in another now-deleted tweet: "To me, for better or worse doesn't mean cheating.. that's like saying stay with a man that beats you."
Then, a video of Ray J in a hotel room surfaced and social media sleuths thought they saw a woman in the shower, which fueled the cheating speculation even further. There were also photos released showing Ray J without his wedding ring while out at a nightclub with friends.
Though many fans seemed to believe Ray J possibly cheated on Princess, there were a number of people who were convinced all of this was a publicity stunt for a storyline for the upcoming season of Love & Hip Hop Hollywood.
Publicity stunt or not, we hope that Ray and Princess have put all of this behind them (ESPECIALLY RAY) for the sake of their newborn daughter.
Be the first to receive breaking news alerts and more stories like this by subscribing to our mailing list.