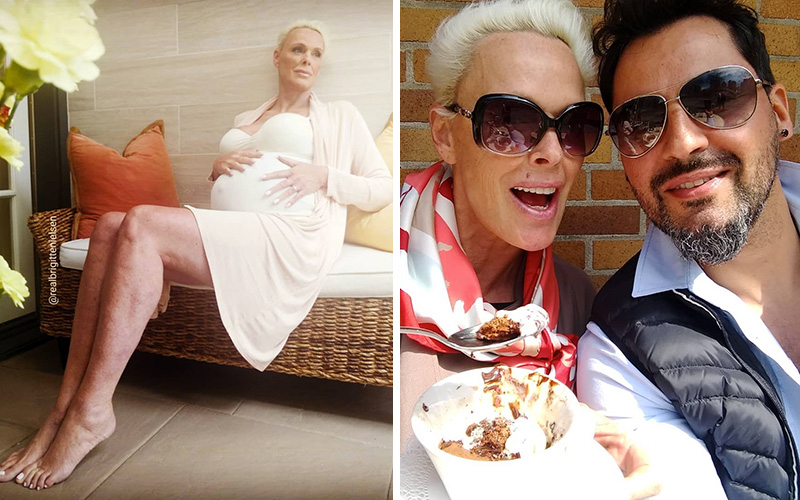 Brigitte Nielsen is with child!
The 54-year-old actress announced on Instagram that she will become a mother for the fifth time.
"Family getting larger," she wrote in the caption of one of the pictures showing off her growing baby bump. The caption on another photo reads "Happy time" and "Positive vibes."
Nielsen, who has been married five times, is already a mom to four sons: 23-year-old Raoul Meyer Jr., 25-year-old Douglas Meyer, 28-year-old Killian Gastineau and 34-year-old Julian Winding. Her fifth husband, 39-year-old Mattia Dessi, whom she married in 2006, is the father of her new baby.
Nielsen—known for her towering 6-foot-1 stature—rose to fame starring alongside her second husband, Sylvester Stallone, in "Rocky IV" and "Cobra." Nielsen and Stallone were married from 1985 to 1987. The actress was also married to Kasper Winding (her first husband) from 1983 to 1984, Sebastian Copeland (husband number three) from 1990 to 1992, and Raoul Meyer (husband four) from 1993 to 2005.
In 2005, Nielsen found love with rapper Flavor Flav after they appeared together on the VH1 reality series "The Surreal Life." Their relationship was so captivating that the couple landed their own reality show called "Strange Love," however, their union was short-lived.
Nielsen and Flav, who she affectionately called "foofy foofy," didn't make it past the year 2005. Nielsen and Mattia Dessi married a year later, and she revealed in an interview back in 2008 that she wanted more children.
"The children have kept me going. After I do Playboy, we want to try IVF," she said at the time, when she was 45 years old. "It's asking a lot, but if it's possible, it would make our package complete."
The Danish actress joins a growing list of celebrity women who are choosing to have children later in life, including Janet Jackson (who gave birth to her first child, son Eissa, at 50 years old), Halle Berry (who had children at 41 and 47 years old), Mariah Carey (who gave birth to twins at age 43), Kenya Moore (who is reportedly expecting her first child at 47) and more.
Be the first to receive breaking news alerts and more stories like this by subscribing to our mailing list.