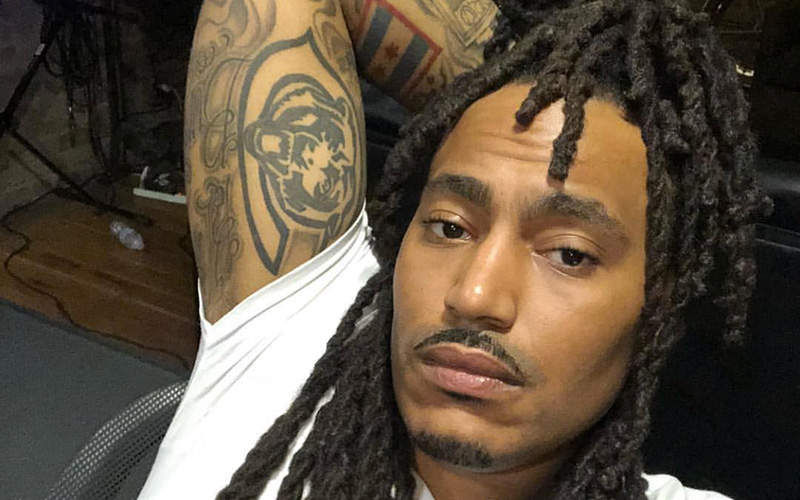 Chicago rapper Mubu Krump is dead after being shot in a drive-by shooting over the weekend.
According to a number of online reports, Krump—a member of King Louie's MUBU camp—was standing in front of his house in the 6800 block South Morgan Street in the South Side area of Chicago late Thursday night/Friday morning (May 24-25) when shots were fired from a car driving by.
The 32-year-old was reportedly attending a party at the time of the shooting. Reports say he was shot twice in the arm and twice in the torso. He was taken to the University of Chicago Hospital, where he was pronounced dead.
A photo is being passed around on social media presumably showing Krump right after he was shot:
https://twitter.com/RapCatchUp/status/1000035715672150016
Another man, rumored to be 051 Melly, was shot alongside Krump and is said to be currently in the hospital with serious injuries. He reportedly suffered five gunshot wounds to his left arm and was grazed in the head.
Mubu was known for his feuds with Lil Durk, Lil Reese and a number of other Chicago rappers, and was a frequent participant in a number of Twitter beefs back in 2013-2015.
Krump made headlines in January 2016 after sucker punching Lil Durk's DJ at a Chicago Mall. He allegedly bragged about the incident on Twitter, writing, "We just scored. It goes down Lil Durk. [You] wasn't ready in my time n**ga. Share [your] location, we can meet." He added a "#putthegunsdown" hashtag to the tweet."
He wrote in a follow-up tweet, "When a [motherf**ker] wanna meet, we leave [you] in da street… We don't want nobody dead. We just beat [this] bitch ass n**ga."
Family, friends, and fans took to social media Friday to mourn Mubu Krump's passing:
https://twitter.com/LucciVee/status/1000037103244382209
WTF MAN MY HEART HURTS RIP MY NIGGA KRUMP MAN GOD DAMN IT'S A COLD WORLD @064drocitykrump

— M.J. (@MJFadeAway5) May 25, 2018
Damn Louie mans Krump got killed….sheesh

— O (@OMarquise_) May 25, 2018
https://twitter.com/LucciVee/status/1000051779466342401
Mubu Krump really up outta here? Dang. That's wild.

— TEWJ ?? (@Ayo_TTime9) May 25, 2018
https://twitter.com/051metboy_marlo/status/1000123981196943363
Dam Another Real One Gone MUBU Krump ??? You Know They Hated You Telling Tge Truth About The City Just Like The Devil Didnt like Jesus Cuz He Was Telling The World About Tge Devil What Tgey Have To Do To Keep The Devil Living Kill The Messager ??? Rest Up Big Folkz Krump

— King Nez ? (@TheRealKvng_) May 26, 2018
Others, however, were not so mournful over Krump's death:
Mubu Krump got clapped in Chicago, that's what he get for dissing niggas from OTF.

— ZOE GANG ??? (@zoe_gamer00) May 25, 2018
Lmao Mubu Krump got his dumb ass smoked

— FREEBLASTEM&RAGE? (@_DaRealTman_) May 25, 2018
That nigga Mubu Krump finally got his ass left I seen that shit coming for so long, niggas really be willing to die for some clout.

— Alias. (@TheFliestPlane) May 25, 2018
Be the first to receive breaking news alerts and more stories like this by subscribing to our mailing list.