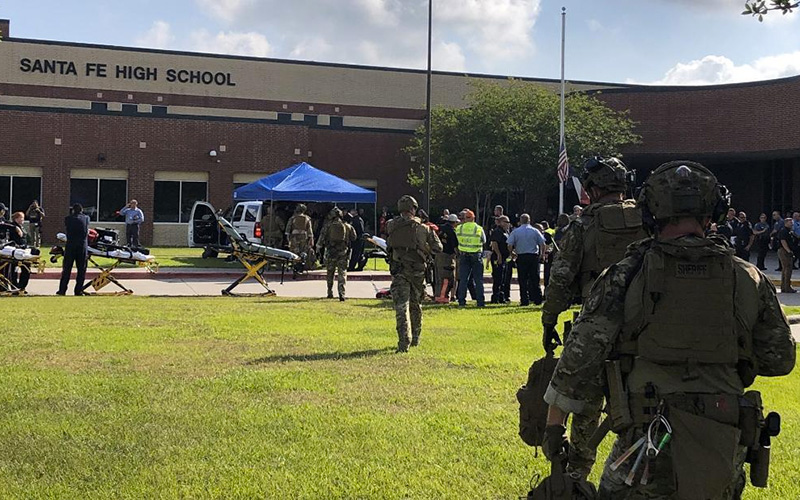 With just weeks left until the last day of school for many students in the U.S., law enforcement officials are reporting that at least 10 people were killed after a shooter opened fire at Santa Fe High School in Texas.
Federal and local law enforcement told local media that a suspect is in custody and at least 10 fatalities have been confirmed—nine students and one teacher—and an officer, as well as multiple students, were injured.
According to Harris County Sheriff Ed Gonzales, the suspected shooter is a 17-year-old male student, and a second person detained after the shooting is also believed to be a student at the school.
At least 12 people from the shooting are being treated at various Texas hospitals. Seven people are being treated at Clear Lake Regional Medical in Webster, two patients are being treated at Mainland Medical Center in Texas City, and three others are at John Sealy Hospital in Galveston.
According to CNN, "we're only 20 weeks into 2018, and there have already been 22 school shootings where someone was hurt or killed," which "averages out to more than one shooting a week."
The Santa Fe School District first warned the public of threats of an "active shooter" at the high school around 9:20 a.m. EST (round 8:20 a.m. local time) and a lockdown was immediately initiated. The Bureau of Alcohol, Tobacco, Firearms and Explosives (ATF) confirmed that they were responding to the reported shooting just before 9:30 a.m. EST.
BREAKING: ATF is responding to a school shooting at Santa Fe High School in Santa Fe, Texas. pic.twitter.com/LXC6d8jTYZ

— ATF HQ (@ATFHQ) May 18, 2018
According to an eyewitness account provided to ABC 13, the gunman entered a classroom and began shooting what appeared to be a shotgun.
One student told CNN the shooting happened after what seemed like a fire drill. Apparently, someone pulled the fire alarm to alert everyone in the school and get them out of the building.
"So, it was just a normal-like class day. We all were doing our work in first period. And then all of a sudden like it's a fire drill," 14-year-old Angelica Martinez said. "So we followed the fire drill procedures. And then we went outside. Like we were all standing there, but not even five minutes later, we all start hearing gunshots." She said that's when everyone started running, despite teachers telling them to "stay put."
https://twitter.com/moneyries/status/997474199122989056
Shaken students told a local NBC affiliate they heard several shots ring out after a fire alarm went off just before 8 a.m.
"I was sitting in my classroom and I heard really loud booms, but I really didn't know what they were at first," student Dakota Shrader said. "Then, I realized what they were when I heard screaming." Shrader added through tears, "Nobody knew what to do. There was nothing we could do but run."
Students reported that the shooting happened in an art class.
"I shouldn't be going through this, it's my school, this is my daily life," an unnamed student told ABC News outside the school, crying. "I shouldn't have to feel like that, and I feel scared to even go back."
After the building was evacuated, explosive devices (pipe bombs and pressure cookers) were found at the school and off campus. Chief Walter Braun of Santa Fe Independent District School Police urged community members to be on alert for any suspicious devices, and call 911 if they found anything suspicious.
Galveston County Judge Mark Henry added that authorities did find "suspect material" off campus, and warned people, "Anything you see, please do not touch it."
According to a law enforcement source, investigators said they were searching a nearby trailer where it is believed IEDs were assembled.
Speaking at an unrelated event, President Donald Trump spoke about the shooting at Santa Fe High School. He said shootings like today's have "been going on too long in our country" and said his administration was "determined to do everything in our power to protect our students, secure our schools, and to keep weapons out of the hands of those who pose a threat to themselves, and to others."
President Trump on the school shooting in Santa Fe, Texas: "We're closely monitoring the situation and federal authorities are coordinating with local officials. This has been going on too long in our country" https://t.co/x1Z8g2XnJV

— CNN Politics (@CNNPolitics) May 18, 2018
Secretary of Education Betsy DeVos just a statement on the shooting, saying that schools must be "safe and nurturing environments for learning" and "no student should have to experience the trauma suffered by so many today and in similar events prior."
She added, "We simply cannot allow this trend to continue… Our nation must come together and address the underlying issues that lead to such tragic and senseless loss of life."
This is a developing story… Please check back for updates.
Be the first to receive breaking news alerts and more stories like this by subscribing to our mailing list.