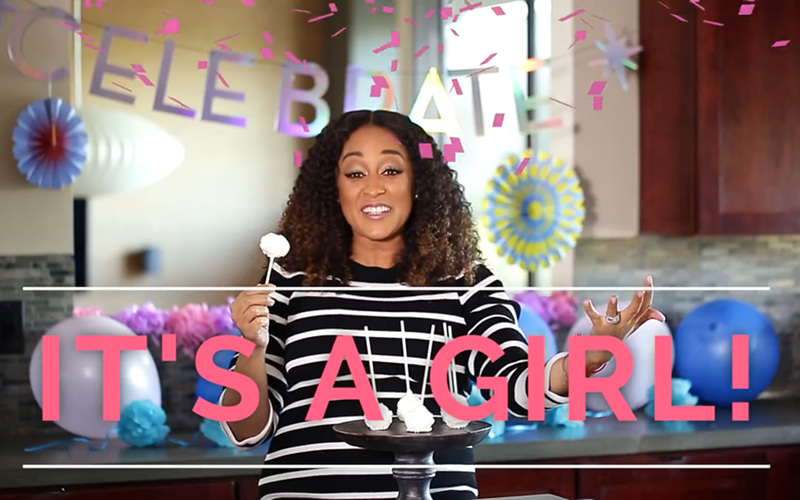 Tia Mowry just revealed the gender of her baby and it's a girl!
The actor and cooking show host produced an 11-minute video of clever gender reveal ideas, teasing watchers that she would reveal the gender of her own baby at the end. Taking a bite out of a white cake pop that was pink on the inside, she made the announcement.
"We're having a girl! We're having a girl! [My son] Cree is going to have a baby sister. We are so excited."
This will be Tia and husband Cory Hardrict's second child. The family made the adorable announcement they were expecting in November.
Despite how it may look, Tia tells her viewers that she is not having twins.
"I feel like I'm kind of big for how many months I am. Like, my belly is just like—bam! It's just like, 'Hello! Hello, world!' So, when I'm around my mom, she's always like, 'Tia, are you sure you're just having one?' I'm like, 'Mom, do not put that on me. I don't want to have any twins.'"

"I don't know why people think that just because you're a twin, you want to have twins. No… I'm not having twins, people! Even though it may look like I'm having twins, 'cause I'm you know…Woo-hoo!"
Even though she's not having twins, Tia's gender reveal does make a cute coincidence wither her own twin, Tamera Mowry. Both twins will now have a boy and girl, with their sons being the firstborn and the daughters the second child.
Tia still has not revealed her due date, but we wish her a happy and healthy pregnancy.
Be the first to receive breaking news alerts and more stories like this by subscribing to our mailing list.