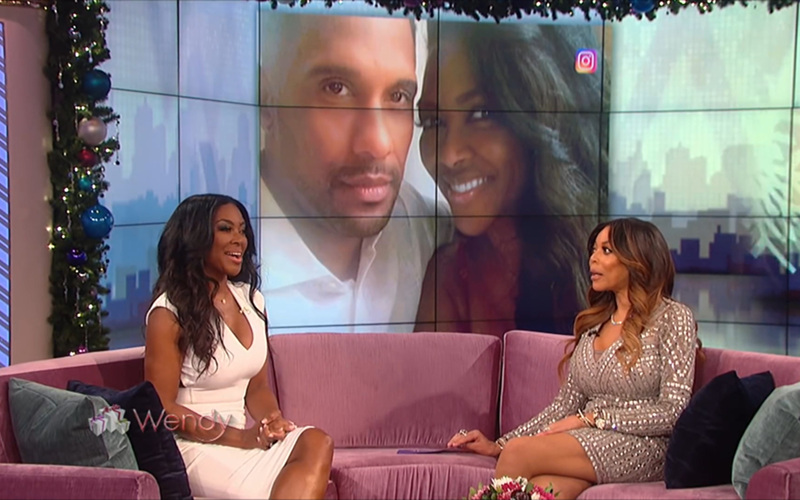 Despite the reports and photos, Kenya Moore is still mum on whether she's about to become a mom in the coming months. The Real Housewives of Atlanta star appeared on the Wendy Williams Show, but masterfully dodged the host's prodding.
Kenya sat on Wendy's purple couch Tuesday (Dec. 5) to promote RHOA, but you know nosy Wendy had several questions about Kenya marriage and rumored pregnancy. "Are you pregnant, now?" Wendy asked.
"I will say when I am able to say. We have been very upfront about wanting to have kids together… I am not saying either way, but when I am ready to say, I will tell the world."
Last week, we reported that Kenya is rumored to be pregnant, but was choosing not to make an announcement until she's in the "safe zone" of her pregnancy. Another report suggested she was already nearing the end of her first trimester.
The RHOA star confirmed to Wendy the photos of her at a Barbados fertility clinic in November are real, but didn't go into further detail. "I'm not opposed to treatments," she told Us Weekly when recently asked about IVF and the photos.
Kenya also defended her marriage to the talk show host. The internet and even several of her RHOA castmates have questioned whether Kenya is really married to businessman Marc Daly.
"I'm married in the eyes of the law and in the eyes of the Lord. My marriage has been ordained by God and we are doing exceptionally well."
Respecting her husband's (and his family's) privacy, Kenya did not reveal to Wendy if Daly had any children of his own. However, we already know that he has at least one, as Kenya wished him a happy Father's Day on social media earlier this year. Wendy didn't let it slide and called her a "stepmom" anyways.
Though Kenya has yet to confirm anything, it's pretty safe to assume that she's either currently pregnant or she's planning on becoming pregnant in the coming months.
Be the first to receive breaking news alerts and more stories like this by subscribing to our mailing list.