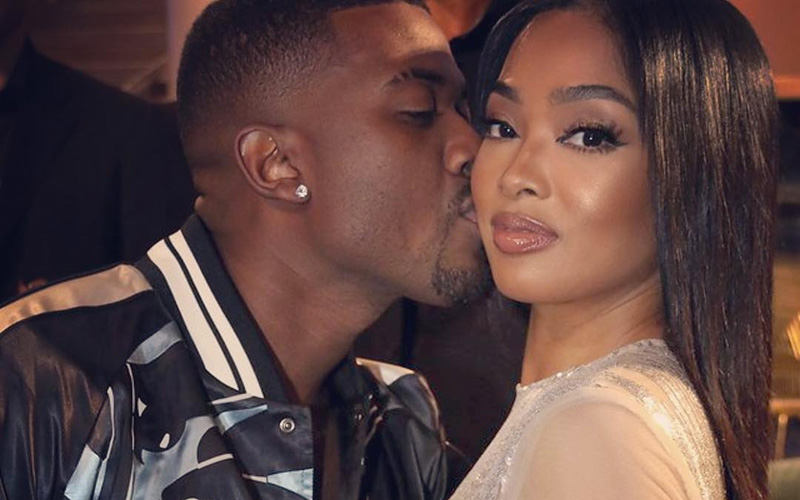 First comes love, then comes marriage, then comes Ray J and Princess with the baby carriage.
Ray J has confirmed that Princess Love is pregnant with their first child. Ray announced the big news during an appearance on The Real Monday morning (Nov. 27).
"Princess and I, we're expecting," Ray revealed exclusively on The Real as the co-hosts and audience members cheered and congratulated them.
Princess followed up Ray's announcement on live TV with a close-up Instagram photo of her growing baby bump. "It's such a blessing from God to be able to carry our child," she captioned the pic. "We kept this ourself [sic] until after the first trimester because it's bad luck to announce too early. But we're so proud to share this journey with you guys. Thank you for all of the love and prayers."
https://www.instagram.com/p/BcAfL00Ff0H/
As for the baby's gender, Ray J says he wants a girl. "I want to have a little girl first," he said. "It's like daddy's little girl. Well I want to be able to have some peace first."
Ray J and Princess have been open about their desire to have a baby amid fertility issues on Love & Hip Hop Hollywood (Season 4). Ray even made light of the situation by participating in a "sperm count competition" with LHHH castmates A1 and Safaree.
Ray came in 3rd place with the lowest sperm count and the doctor advised him to make some lifestyle changes, like quitting smoking, for instance, to help increase the odds of he and Princess conceiving.
"It was special because we were trying for a while," Ray said on The Real. "It's not as easy as people think. It's not just. For some people, they just go on tour and get everybody pregnant. For me it was love. We took our time. And then as we were taking our time, it just took a little while."
Ray and Princess wed in August 2016 in a beautiful ceremony that was documented on Love & Hip Hop Hollywood. It was first rumored in September 2016 that the then newlyweds were expecting, but that turned out to be not true. The following year, in August 2017, Ray hinted on Instagram that he and Princess were having a baby.
This will be the first child for both reality stars, and you can bet the entire pregnancy will be documenting next year on Love & Hip Hop Hollywood.
Be the first to receive breaking news alerts and more stories like this by subscribing to our mailing list.