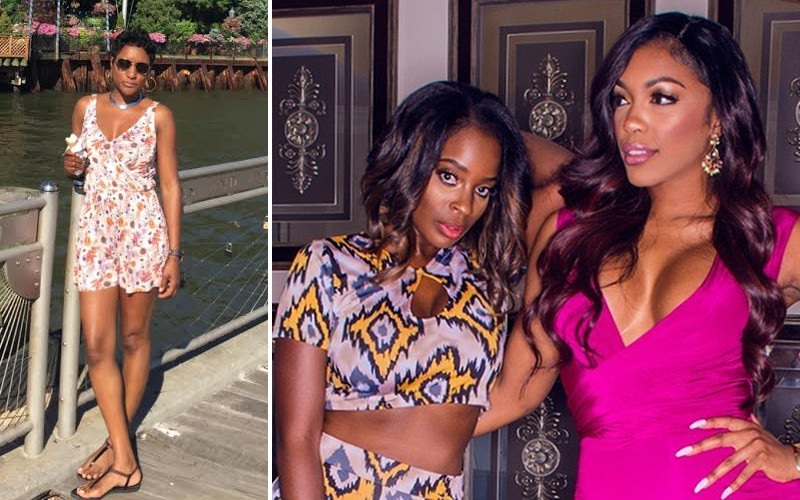 Lamarra George wants you to know two things: one, she is NOT joining the cast of Bravo's "Real Housewives of Atlanta," and two, she was NOT a part of a recent alleged fight during filming for the show that involved tossed drinks and a bunch of drama.
Last week, we reported on an alleged fight that happened while cameras were rolling during a dinner scene for RHOA Season 10.
RELATED: Big Fight Breaks Out During RHOA Season 10 Taping (Report)
A relatively unknown blog called "Real Mr. Housewife" shared "exclusive details" regarding the alleged fight between two new castmembers: Lamarra George and Shamea Morton.
According to their report, Lamarra and Shamea got into a heated confrontation, which ended in George allegedly throwing a drink and Shamea being escorted out of the building "before any serious physical altercation could ensue."
The report went on to say that NeNe Leakes, Cynthia Bailey and Sheree Whitfield took Lamarra's side because they are all friends.
"NeNe even went as far to say that if they wanted her to stay on the show, they would have to get rid of Shamea," a "source" supposedly revealed, adding that Kenya stayed out of it and Porsha didn't even defend her friend Shamea.
"Kenya didn't get involved in the drama at all and basically ran away to call her husband as soon as things got crazy. Porsha… walked away as well."
Lamarra George has since reached out to our good friend Michelle Brown aka ATLien over at Straight From The A via Instagram to shut down the reports:
"Hi, Michelle! I know that you're well known in the RHOA community. There's a story going around that I'm apart of the cast full time, which is not true at all. Being that you know many bloggers, do you know where it stemmed from? I never threw a drink on anyone…"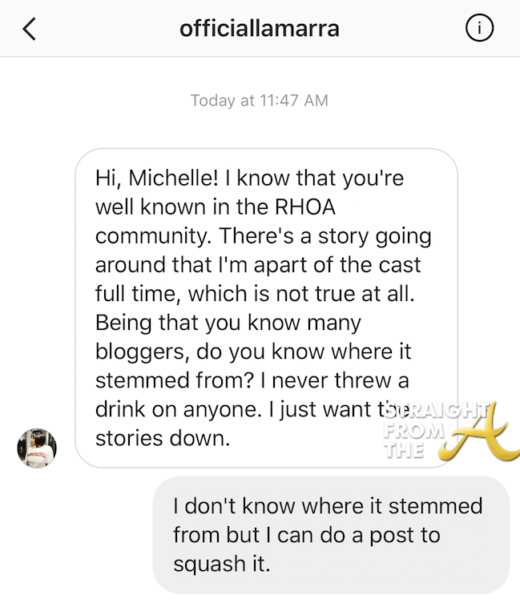 Notice how she made it a point to mention that she is not "apart of the cast FULL TIME," which means that while she won't be holding a peach, she will likely be making some appearances on the show throughout the season (like Marlo Hampton, for example).
Meanwhile, the "Real Mr. Housewife" blog has deleted their story, proving that their story was likely false.
RHOA OG NeNe Leakes has even spoken about the fight rumors and basically said that she isn't giving her peach up for ANYBODY. She wrote on IG:
"Where does all this stuff keep coming from? Fights, glasses thrown! If ANYBODY dream of this sh*t, they are catching a f**king case! I will sleep on the court house steps to bring a b*tch to justice if they don't catch what's under the front seat of my car first #nothappening #stoplying #bitchgonebeinhandcuffs #idontgetdownlikethat #grownwomansh*t
She also added in a footnote (possibly talking about Porsha Williams):
PS: I am very clear about who the chemical imbalanced housewife is that's looking for a moment but they are not gonna get it
Though official casting for RHOA Season 10 has yet to be revealed, it is believed that Eva Marcille will be joining the cast, but it hasn't determined whether or not she will be holding a peach. And while Shamea was reportedly offered a peach, Straight From the A reported that she turned it down at the request of her husband (but she will remain a "friend" on the show with limited appearances).
Real Housewives of Atlanta Season 10 is set to premiere sometime in November.
Be the first to receive breaking news alerts and more stories like this by subscribing to our mailing list.