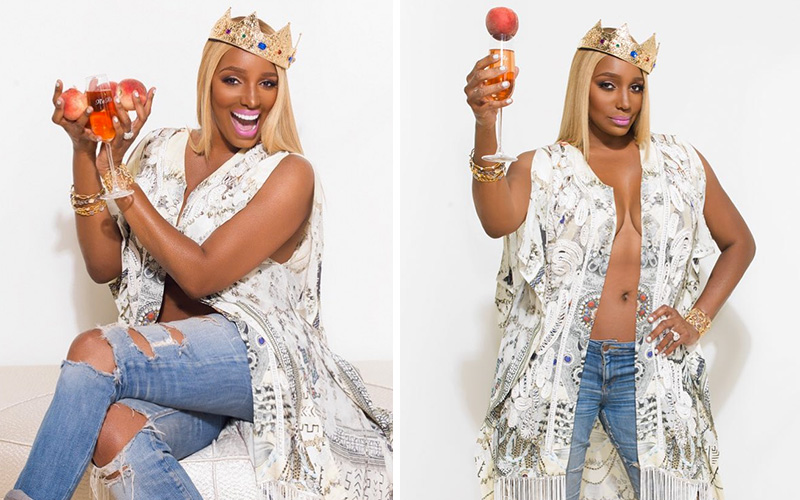 It's official. NeNe Leakes will be returning to the Real Housewives of Atlanta for season 10!
After months of salary negotiations, NeNe Leakes and producers have finally reached an agreement for the RHOA OG to sign on for the show's 10th anniversary season.
NeNe officially announced the big news Wednesday (Jun 14) on Instagram.
"It's been a long process but we've finally reached an agreement! All Hail the Queen for season 10 of #RHOA @bravotv #thethreatisback," she captioned a photo of her holding a wine glasses with a peach on top.
On another photo of her eating a peach, she wrote, "Got my eyes closed thinking bout how imma get you bitches together! Let's go #RHOA #thethreatisback #Queen #eatmypeach."
Don't get your hopes up on NeNe being a full time cast member though. According to TMZ, Leakes will only be on the show part-time because she's too busy being a rich bitch and working on other aspects of her career.
TMZ reported that filming for RHOA Season 10 has already commenced, but NeNe hasn't shot any scenes just yet, so it's unclear when she'll pop up in the season.
Although she left the show as a full-time cast member after Season 7, NeNe has returned for occasional episodes in recent years, like when she "surprised" the cast while on their trip to Jamaica in Season 8. She didn't appear at all in Season 9, and fans definitely noticed her absence.
"I don't think I go anywhere and don't get asked the question, 'When are you coming back to Housewives?' Or I get fans coming up to me saying, 'I really miss seeing you on the show.' I'm told this daily. My fans have supported me all these years, and it started to feel like I was disappointing them," NeNe told Bravo's The Daily Dish in a statement.
"There were so many bloggers and people saying she's returning, she's getting this, or she's getting that! I just want to be the person to finally say to my fans who have supported me for so many years… I'm back and ready for season 10. Let the shade begin, hunni!"
We can't wait to see what NeNe has in store for the show this season!
In addition to NeNe, the Season 10 RHOA cast will include Kandi Burruss, Cynthia Bailey, Kenya Moore, Porsha Williams, Sheree Whitfield and another returning original cast member, Kim Zolciak.
Though it hasn't been confirmed by Bravo, Phaedra Parks was fired after Season 9 for falsely accusing Kandi and her husband Todd of plotting to drug and rape Porsha Williams in their non-existent sex dungeon.
Be the first to receive breaking news alerts and more stories like this by subscribing to our mailing list.