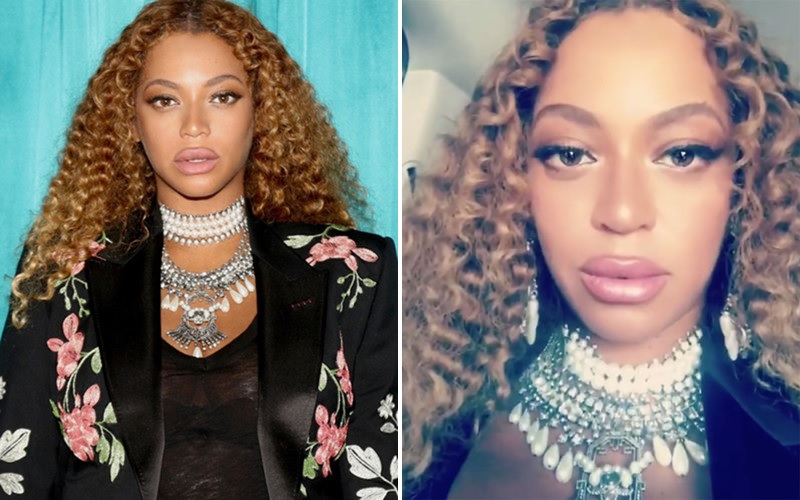 Beyoncé's publicist is not here for any fake news regarding her client's pregnancy. Yvette Noel-Schure got MediaTakeOut together after the webloid published a report claiming the singer got lip injections while pregnant.
The star pregnant with twins has been spotted at public events and in Instagram shots with noticeably fuller lips than usual. Noting they've only heard of a woman's nose growing during pregnancy, MTO compared before and after photos on Thursday (May 4) and suggested Beyoncé must have gotten "Kylie Jenner lip injections."
The ridiculous assertion was too much for Noel-Schure to let slide. In a statement released to Gossip Cop Thursday night, she gave an epic read to MTO staffers and explained how pregnancy causes swelling and alters the mother's body.
MTO staffers, what do you know about the effects of pregnancy on a woman's entire body? Please tell me. Did you know that in addition to weight gain there is often a dramatic change in the blood flow in the system and increased fluid causing swelling? Do you know that often women's gums get swollen? Do you know that it sometimes affects our speech, our ability to chew intently and a host of other things?

But the sacrifice to our faces, our feet and our entire bodies is something we welcome because we bring beautiful humans into the world who will one day combat your hate and negativity.
Beyoncé faced many rumors during her first pregnancy with Blue Ivy, 5, back in 2011. Beyoncé faking her pregnancy by wearing a pad and was actually paying a surrogate to carry her child received the most attention. Noel-Schure writes that she couldn't let the rumors fly unchecked this time around.
I stood silent during Beyoncé's first pregnancy when you thought it was okay to bully her like the cowards you are, when you accused her of never being pregnant, but I simply cannot this time.

You are the saddest individuals and picking on a pregnant lady is tantamount to possessing the coldest, despicable heart. You need to find something else to do with your time and maybe stop by a store that has happiness on sale because you need to buy some.
Listen, Miss Yvette Noel-Schure definitely did not come to play.
Meanwhile, Bey and Jay Z are preparing for the birth of their twins. Sources tell E! News the pregnancy has been more difficult than her first and finding it hard to keep up her energy.
She is also indulging in different cravings, but still maintaining a healthy diet. This may explain that menu photo she recent posted, which Twitter turned into a hilarious meme.
The sources also say the couple is still enjoying the sweeter notes of Lemonade.
"The love [between Jay Z and Beyoncé] is authentic and real. Jay is a good dad and husband. He'd do anything for Bey… They been through so much together."
Beyoncé and Jay knows but has not revealed the sex of the babies. And though a due date has also not been revealed, Beyoncé is reportedly due later this month.
Be the first to receive breaking news alerts and more stories like this by subscribing to our mailing list.