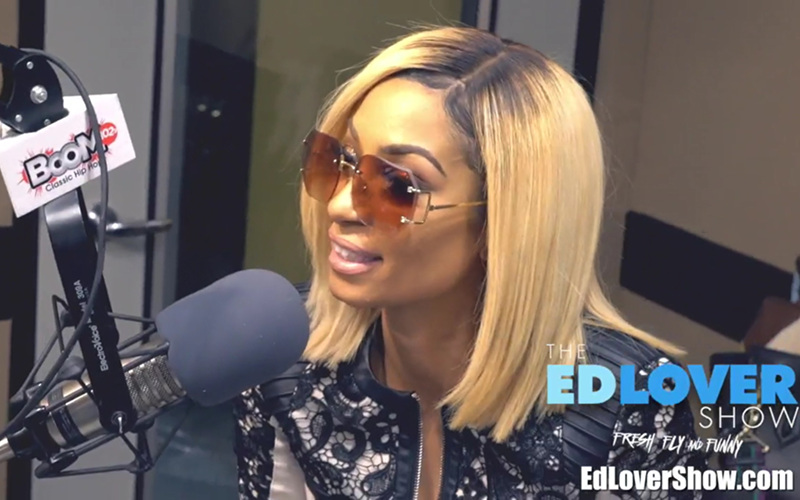 The current season of Love & Hip Hop Atlanta is so focused on Kirk Frost's possible baby mama drama and Joseline Hernandez's pregnancy, but is another pregnant LHHATL star going under the radar? Karlie Redd just hinted that she might be involved in a baby storyline of her own.
Karlie appeared on The Ed Lover Show to promote LHHATL and her other projects. However, she also discussed her relationship status and revealed that she may be ready for another baby real soon. "You haven't had baby, yet, on the show," Lover randomly asked out of the blue.
Caught a little off guard, Karlie responded: "I'm, I'm, I'm gonna be pregnant soon."
Lover's co-host, Monie Love, got a little shady and asked "Is it in the bloody storyline?" Which, to me, sounds like she was asking if Karlie's impending pregnancy was already written in the script or planned by producers. Nonetheless, Karlie expanded on her shocking desire to have a baby.
"I can't tell you anything! But I'm dyin' to have a boy."

*laughs*

"I'm taking applications and, you know, if people wanna leave, you know, some of your stuff at the bank for me, you know, I'll go to the bank and pick it up."
Karlie also talked about her relationships. On LHHATL, she's seeing co-star, Yung Joc. However, she is actually currently in a relationship with Ceaser Emanuel, from another VH1 show, Black Ink Crew. Though Ceaser claims he is not, Karlie says she is celibate in their relationship.
"I don't sell-a-bit, I don't sell-a-lot, I don't sell anything. I'm not ready… I just want to make sure this relationship is real."
Following Lover's humorous cookie analogy, she adds that Ceaser's not eating any of her "cookies" until she feels he is worth to do so.
Season 6 of LHHATL is reportedly still filming. So, there may be a chance that Karlie may find herself looking into sperm banks. Or maybe messy Karlie Redd will stop getting into other people's baby mama drama and have her own "Who's the daddy?" storyline between Joc and Ceaser.
Love & Hip Hop Atlanta airs on Mondays.
Be the first to receive breaking news alerts and more stories like this by subscribing to our mailing list.