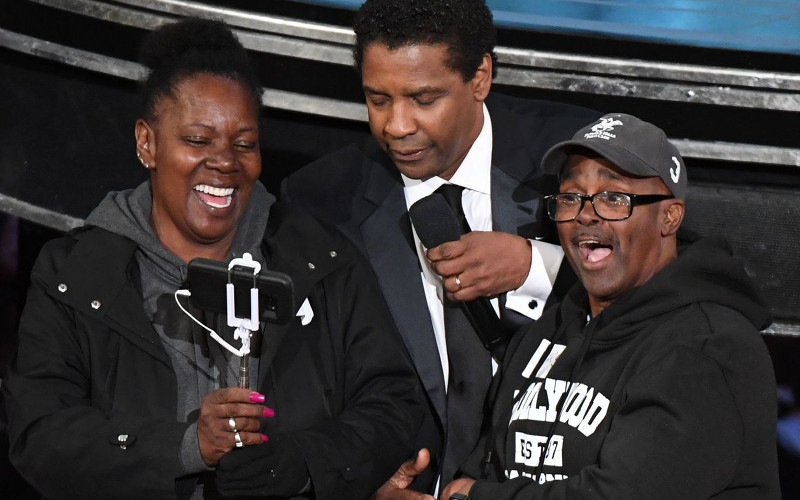 You knew it was coming. It was just Sunday (Feb. 26) that "Gary from Chicago" warmed America's (and the world's) heart as he casually rubbed elbows with Hollywood's biggest stars during the Oscars. But it was only a matter of time before his backstory became public.
As it turns out, Gary Alan Cole has spent the last 20 years in prison, only being released three days before being "married" by Denzel Washington, kissing Halle Berry's hand, and holding Mahershala Ali's shiny new Academy Award.
My first thought upon learning this news was "of course 'they' can't let a black man just enjoy his once-in-a-lifetime moment." However, it was actually Gary, himself, who revealed his prison stint. He briefly mentioned his incarceration during an interview with Chicago's ABC 7.
"Change is possible. It's a sad day to be in prison for 20 years and not be able to be a dad, a granddad to your children. You know what my son told me today, man? I almost come to tears. He said he's proud of me. So to hear your children say that they're proud of me means the world to me."
Further investigation shows Gary was convicted of petty theft in 1997 and sentenced 25 years to life under California's three strikes law. The Three Strikes Reform Act recently commuted Gary's sentence to 6 years, having already served 20 years.
According to a Facebook post by Karen Nash (Gary's public defender), Gary "got a life sentence for stealing perfume in 1997."

Gary also has several other convictions including petty theft, robbery, and a 1978 attempted rape conviction.
"Gary from Chicago" become a viral sensation when he and fiancé Vickie Vines, and several other LA tourists were unknowingly brought to the Dolby Theatre during the 89th Academy Awards telecast.
#GaryFromChicago, ladies and gentlemen ? #Oscars pic.twitter.com/MHaNw7cpTA

— Karen Civil (@KarenCivil) February 27, 2017
Like a real tourist, he captured the moment with his phone as he met A-list celebs like Denzel & Halle, Ryan Gosling, Nicole Kidman, and Meryl Streep. Vickie even stated Denzel Washington was her favorite actor.
The internet couldn't get enough of "Gary from Chicago," which began trending on Twitter. The viral star has since been offered free pizza from Chicago's Gino's East and an offer to attend a game by the Chicago Bulls.
If anyone knows who #garyfromchicago is, have him tweet us because we want to give him some pizza ?#Oscars

— Gino's East (@ginoseast) February 27, 2017
Gary from Chicago! We've got you covered if you want to come to a game! #Oscars

— Chicago Bulls (@chicagobulls) February 27, 2017
Be the first to receive breaking news alerts and more stories like this by subscribing to our mailing list.