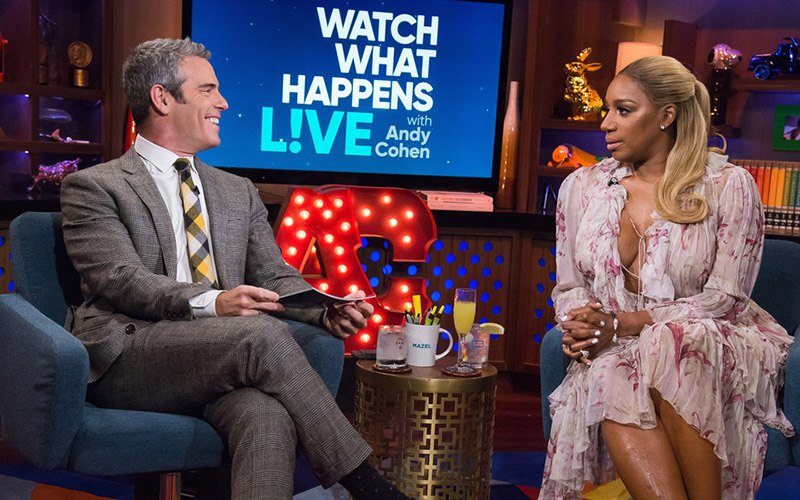 NeNe Leakes may no longer be on The Real Housewives Atlanta, but she still knows how to bring all the drama. Nene appeared on Watch What Happens Live! with Andy Cohen for the first time in 9 months Sunday night (Jan. 22) and was not shy when sharing her thoughts on season 9 of the show.
NeNe hilariously discussed her thoughts on Sheree Whitfield, Kenya Moore, and Cynthia Bailey's love lives/storylines, but she really spilled the tea when it came to her personal relationships with Phaedra Parks and Porsha Stewart. She's even Team Kandi when it comes to the strained friendship between Phaedra and Kandi Burruss.
Porsha and Nene had forged a nice friendship in past seasons. However, in her latest stop to the WWHL clubhouse, Porsha revealed that she has not talked to NeNe since the season 8 reunion and her phone calls have gone unreturned. NeNe flat out called Porsha a liar regarding these claims.
"That's a lie. Let me tell you something. I am the girl that calls you right back. So, stop believing the lies, honey. I'm just telling you like it is. This girl didn't call me. How is she gonna call me when she's bashing me to her radio crew all the time?"
Prior to revisiting the matter, NeNe explained her thoughts on why she and Porsha have not spoken. She believes it's something she said about Porsha's anger issues during the taping of the season 8 reunion.
"Porsha hasn't spoken to me since the reunion. Remember when I was trying to give her advice about fighting and all that? She took offense to that. She left the show and went on her radio show and bashed me along with the rest of her co-workers and I was simply just trying to give her some good advice as I have always done since I've known her. I've given her nothing but good advice. But that is the reason why we haven't spoke."
After being brought up so many times during NeNe's WWHL appearance, Porsha tweeted:
Porsha Porsha PORSHA ?? #WWHL

— Porsha Williams (@Porsha4real) January 23, 2017
Andy showed the tweet during the after show. NeNe's shady response: "Oh so she think she famous. Girl, bye!"
A viewer question also allowed NeNe to give her thoughts on the Phaedra/Kandi situation. Surprisingly, NeNe is Team Kandi, even though Nene and Phaedra's budding friendship played a role in Phaedra/Kandi's friendship split.
https://www.instagram.com/p/BPmDkX6gIXb/
"Well I think that Kandi has been holding back for so long and keeping secrets and, you know for me, yes I know them in a different way than the viewers do, for me, um I got your back and I'm loyal to you until you're not loyal to me. You're not just gonna keep shooting at me and think that I'm never gonna shoot at you, so I'm okay if, you know, Kandi wants to blow her head off every now and then, I mean I'm fine with that."
NeNe says she doesn't even speak to Phaedra any more and is actually in more contact with Kandi as they have started to get to know each other better.
Kandi appreciated NeNe for having her back and even posted a clip on Instagram. She wrote in part:
I had to post this because @neneleakes just explained perfectly what I've felt… Im extremely loyal but for the last couple years I've kept my mouth closed while I was getting dragged on & off camera. So this year I was just done… Please remember you guys only get bits & pieces of what you get to see on the show, Nene has been privy to info that y'all don't know so her perspective is a lot more clear on this situation. Isn't it funny to hear Nene & I on the same page. #JesusFixedIt."
NeNe Leakes is definitely a polarizing personality; you either love her or hate her. I personally love NeNe and she had me cracking up during her entire WWHL appearance. Even while not holding a peach, she's still the queen of RHOA.
Be the first to receive breaking news alerts and more stories like this by subscribing to our mailing list.