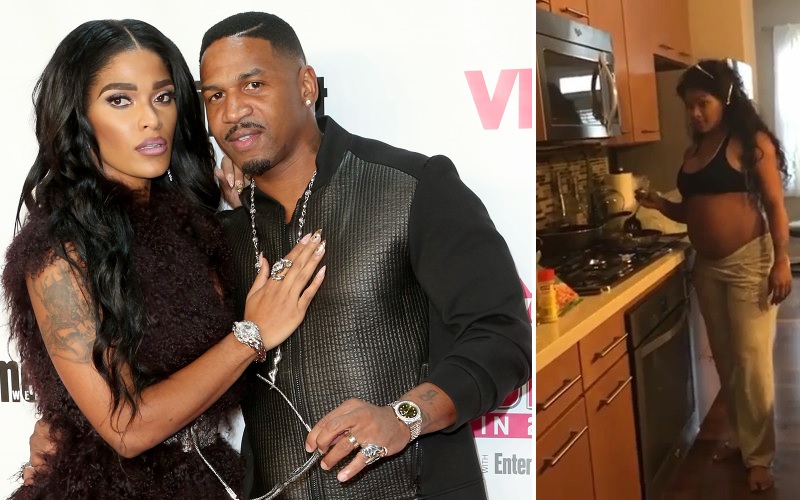 Are Stevie J and Joseline Hernandez back together? The jury is still out on that one, but it does seem the two are on the road to mending fences and the "hitmaker" may even be ready to claim Joseline's unborn baby.
The Love & Hip Hop Atlanta stars rocked social media early Sunday morning (Dec. 4) after Stevie J posted a video on Instagram. The vid shows a very domestic-looking Joseline cooking breakfast, while Stevie speaks from behind the camera.
The two joke back and forth, with Stevie asking the Puerto Rican Princess if she was cooking for him because he allegedly wrote her some sort of check. They briefly discuss an upcoming baby shower and you can also hear Stevie tell the dog, "Daddy's home."
Although, many were not sure what to make of the video, what really raised eyebrows was Stevie's caption. He wrote:
"Bonnie Bella is 4 weeks away… @joseline we may not always get along & have done some hurtful things to each other but raising a child takes both parents. I'm all in. #BonnieBellaJordan."
The caption seemingly confirmed Joseline's unborn daughter's name will be Bonnie, which she subtly revealed on Instagram last week. It was also unknown whether the baby's last name would be Jordan or Hernandez, since a paternity test is still needed to prove whether Stevie is, in fact, the father. However, his post cleared that up, too, claiming he's "all in."
Stevie's video post instantly went viral and has since been deleted, with no explanation why.
The always rocky, yet entertaining relationship between Stevie and Joseline will continue to play out on reality TV. Stevie's new spin-off, Leave it to Stevie, premieres on VH1 Dec. 19 and Joseline claims to be shooting a "delivery special," which will document Bonnie Bella's arrival.
Be the first to receive breaking news alerts and more stories like this by subscribing to our mailing list.