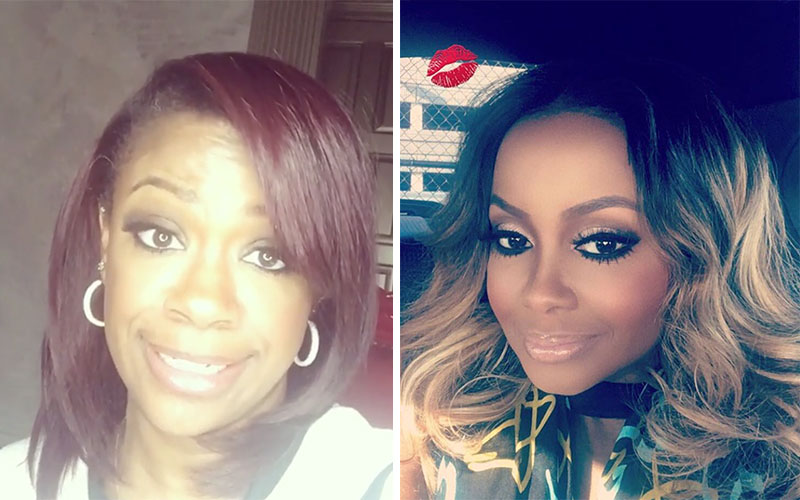 If you were hoping against hope that one-time pals Kandi Burruss and Phaedra Parks would be able to mend fences and patch up their friendship some time this season, you can give up now.
Kandi Burruss made it clear that her friendship with her Real Housewives of Atlanta is pretty "dead and gone" like the Justin Timberlake and T.I. song.
While answering fan questions on Instagram, Kandi clarified why she didn't receive her former gal pal Phaedra so warmly during a recent episode of RHOA.
Basically, Phaedra and I haven't been around each other one on one without anybody else around in over a year at that time and that's because we really didn't mess with each other like that.

But she did come to the hospital when I had the baby, but things where really not great. She reached out and said she wanted to come, so I was like "Cool"…tryna be cordial, but then she said something else after that and I was like, "I don't fuck with her."

We really don't fuck with each other, so we were trying to just be cordial because we have to be on the show together.
Welp. Guess that ship has sailed and left the dock.
Not even the birth of Kandi's baby could bring their friendship back together. And babies have successfully held crazy Kardashian relationships together so that's saying a lot.
Given Kandi's track record with "friends" on RHOA, she doesn't tend to really backtrack with folks once that bridge is burned. Perfect example being Kim Zolciak, who Kandi was super friendly with but quickly distanced herself once Kim denied her rightfully earned iTunes coins.
Phaedra, to be honest, seems unbothered about the whole thing but then again, it ain't nothin' for Phaedra to make friends with someone who was once her enemy. Remember how cozy she got with NeNe last season?
Be the first to receive breaking news alerts and more stories like this by subscribing to our mailing list.