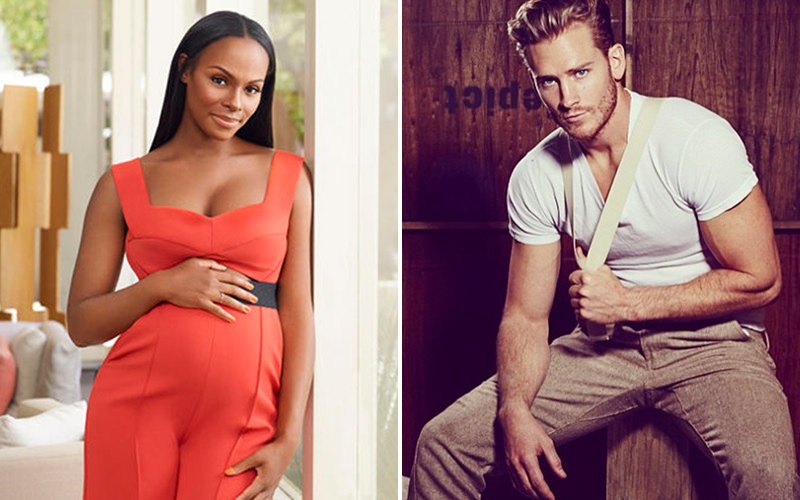 Tika Sumpter went over 2 trimesters of pregnancy without revealing to the public she was with child or who baby's father was. She gives one interview to Fit Pregnancy and social media detectives have already discovered the baby daddy!
According to social media and sources close to both mother and father, Sumpter's boyfriend is The Haves and Have Nots co-star, Nick James! This is certainly a shocker because I never would have guessed. The two have reportedly been dating for a year and half and their impending parenthood was unplanned.
The internet put the pieces of the puzzle together by combing through the actors' social media accounts, and Bossip confirmed the news with "sources who know both actors."
Sumpter has posted photos of James and they both went skydiving (for Valentine's Day) earlier this year.
Unfortunately, what's not-so-shocking is social media's response to Sumpter's boyfriend/baby daddy being white.
Tika Sumpter pregnant by he white cop on Have and Have Nots? Say it ain't so ??? pic.twitter.com/w2e35cLb4e

— (dee j) (@politicalelite) August 21, 2016
Of course Tika Sumpter's baby daddy is white ?

— Nacho Baby Mama (@Mistie_Madison) September 13, 2016
I'm lowkey blowed tika sumpter having a baby for a white dude, all that melanin down the drain.

— ? (@LACHASSEE) September 13, 2016
https://twitter.com/esgn_rj/status/775501837994602497
https://twitter.com/IGuessSoHuh/status/775158190346567680
Tika's with a white man?

— pussyMagic (@blkswn___) September 11, 2016
https://twitter.com/onefishtwobitch/status/774735141637947392
Sumpter is expected to give birth in October, but recently revealed that social media was one of the main reasons she kept her pregnancy a secret for as long as possible.
I didn't want to hear, 'Who's the dad?' Social media can be harsh, and I'm a mama bear, protective of my family. So that's why I waited to tell people, including some of my friends… She's my first child, and I wanted to experience every moment of this pregnancy for myself and enjoy it without everybody else being in it with me."
I give props to Tika for wanting to keep social media out of her business. She already knew the "harsh" comments she would get once people find out Nick James was her boyfriend. Now that the cat is out of the bag, I hope the couple air on positivity and continue to enjoy the experience of welcoming their first child into the world.
Be the first to receive breaking news alerts and more stories like this by subscribing to our mailing list.