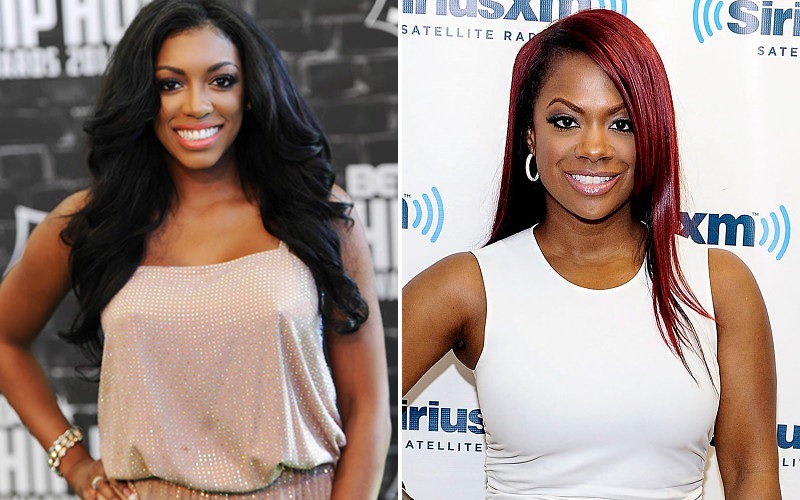 Filming of season 9 of The Real Housewives of Atlanta is currently underway, and it seems Porsha Williams is back to throwing hands. This time, sources say, the object of her aggression is none other than (mostly) cool, calm, and collected Kandi Burruss.
Exact details are unclear, but as the Housewives gathered at a restaurant, it seems Williams was apparently caught off-guard when another castmate asked about her anger management classes. Burruss then confronted Stewart for referring to the other ATL Housewives as "b*tches" in another conversation.
Burruss sent Williams over the edge and a source told blogger Tamara Tattles, she had a "bizarre nervous breakdown."
Via Tamara Tattles:
"Porsha fled the restaurant as production captured her running out into traffic and running back and forth across the street! Porsha had a full on meltdown while the rest of the cast watched through the window."
Williams was previously ordered to attend anger management classes due to engaging in three physical altercations while filming for the show since she joined in 2012.
However, the classes are clearly not working and Ms. Burruss is the wrong one to mess with! She might be cool as a cucumber on most days, but she's not afraid to "drag you in this bitch."
Rumors are swirling that original Housewives Nene Leakes and Kim Zolciak will return for the upcoming season, but both have shot them down. However, with Porsha acting a pure damn fool, it might not even be necessary.
Be the first to receive breaking news alerts and more stories like this by subscribing to our mailing list.