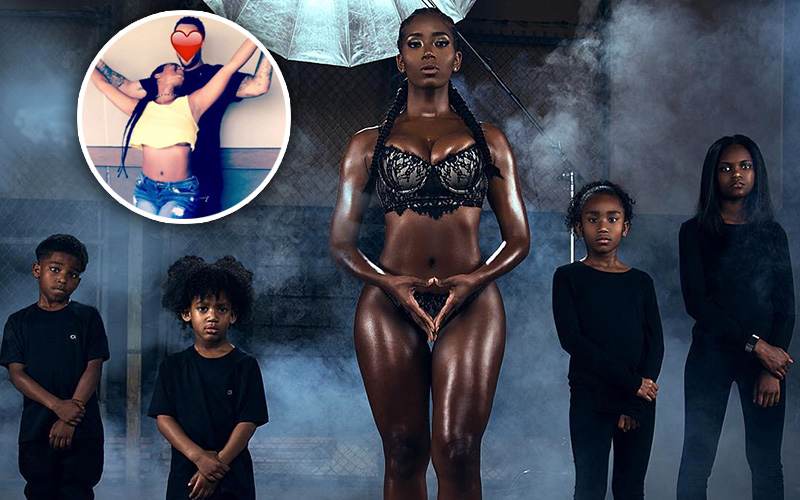 On the season 5 finale of Love & Hip Hop Atlanta, Tiarra (a.k.a. Tia Becca) announced that she is pregnant with her fifth child.
While viewers were shocked to hear the news, many speculated that the baby's father was either her ex Scrapp DeLeon (with whom she already has a son, King) or her new (supposed) boo thang J-Nicks.
However, in a recent interview with Ken Butler World, Tiarra reveals that she recently got married to a man named Brian, and it sounds like he is the father. She also denied that she and J-Nicks were ever intimate.
"No, my husband his name is Brian. [J-Nicks] is a friend I've had for years, but I could never date him, or sleep with him, or do anything like that. And he is a good friend but nobody on that show can compare to my husband. […] My new man is so great."
Just yesterday, the "Love & Hip Hop" star posted a photo with her new hubby on Instagram. His face was covered with a red heart.
https://www.instagram.com/p/BIp4FB5AK7L/?taken-by=tia_becca_&hl=en
Tiarra also revealed to VH1 the baby's due date is on January 12th.  And though she hasn't found out the baby's sex yet, she says that the baby's father wants a girl and wants her name to be Brya Denver Shaw.
"I still get sick every day. I barely eat. The doctor is worried because I only like ice water and crunching ice makes me feel better. I've lost 8 pounds and so the sickness is really zapping all my energy."

"I usually hide my belly or suck it in [for pictures.] I am still doing appearances so I don't want people to see the little budge at the bottom," Tiara told VH1.
With Scrapp being locked up and Tiarra putting J-Nicks on "just a friend" status, it looks like this Brian guy could really be the pappy. Plus, the baby's possible name Brya sounds a LOT like Brian, so… yeah.
h/t: BET
Be the first to receive breaking news alerts and more stories like this by subscribing to our mailing list.