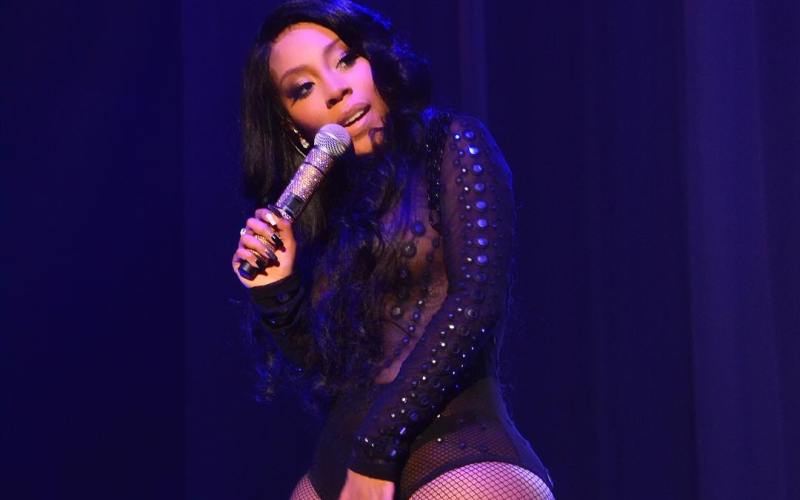 Joseline Hernandez revealed her pregnancy on part 1 of the Love & Hip Hop Atlanta reunion special, but she may not be the only pregnant cast member. K. Michelle has everyone talking about her surprising, yet vague, announcement during a recent performance.
K. Michelle is currently on tour promoting her latest album More Issues Than Vogue, but fans at the Fox Theater in Atlanta Sunday night (Jul. 31) got a glimpse into the singer's romantic life. "For so long ladies, I wanted the bad boy, right? The trouble. I wanted that and that didn't work out too well for me," she told the crowd. But it looks like K. has finally found the right man.
"I got to the point where I just wanted a good man, so I found the perfect man and he's always been there for me. He's handsome. He's single. And he's a doctor. And I'm so happy about our journey and that we are about to start a family. And I'm very, very happy."
Say what?! Does this mean K. Michelle is pregnant? The verdict is still out on that. But clearly, her new relationship is headed in a serious direction.
Little is known about the man in her life. However, word on the street is that his name is Dr. Kastan Sims and he's a dentist in Memphis. K. posted a photo of herself and the boo on Instagram last week. We couldn't see his face due to K. straddling him, but she captioned the pic, "Dr. Sims, I'm sold on you now. No more offer."
K. Michelle has one son, and earlier this year she opened up about a previous abortion. It's unknown if Dr. Sims has any children. We certainly wish the new couple well and I'm sure any pregnancy will be documented on one of her many VH1 reality shows.
Be the first to receive breaking news alerts and more stories like this by subscribing to our mailing list.