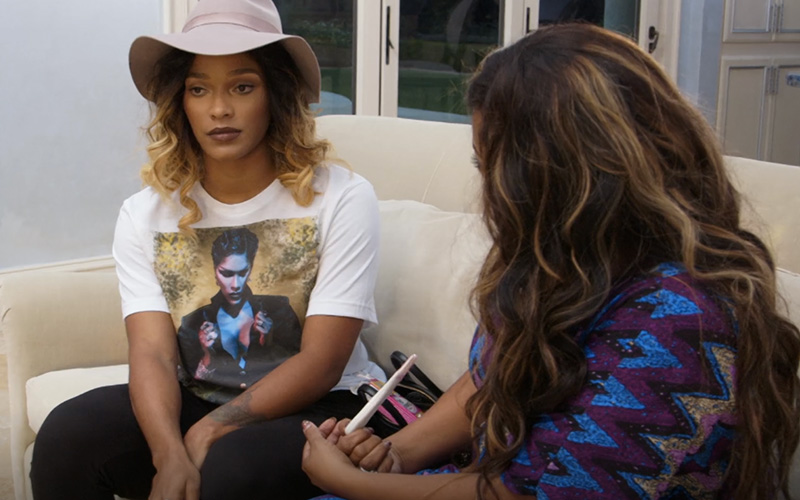 So maybe Joseline Hernandez really is pregnant after-all.
This season's Love & Hip Hop Atlanta reunion special is already weird because this year's cast is so ratchet that they can't even be in the same room together as a collective, so producers were forced to shoot it in separate segments for a show they're calling "Love & Hip Hop Atlanta: Exposed and Unfiltered." But leave it to Joseline to weird things up even more.
While the cast was shooting scenes on the second day of filming for the "Exposed and Unfiltered" Season 5 reunion special, Joseline called LHHATL producers to reveal some shocking news: SHE MIGHT BE PREGNANT. Joseline was asked to return to the set, where Executive Producer Stephanie Gayle tried to calm her down as Joseline explained her situation and showed off a positive pregnancy test.
"I just found out yesterday," Joseline told the EP as she tried to understand what was going on. "I just saw you yesterday," Gayle responded, confused. "I didn't know I was pregnant yesterday," Joseline retorted.
The Puerto Rican Princess revealed she and Stevie J had sex about "3 and a half months" ago, which was also around the time she had her last period. "I didn't even know I was that far along," she said, adding that she just assumed stress was the reason why she wasn't menstruating.
After giving Joseline a serious "Girl, WHY?!?" look, Stephanie urged Joseline to take another pregnancy test just to "make sure."
As they're walking into the bathroom, Gayle says, "This is like deja vu right now," referring to the very first season of LHHATL when Joseline did a pregnancy test in the bathroom in front of cameras that ended up being positive, however, she later had an abortion.
So, the big question remains: Is Joseline REALLY pregnant? And if so, who's the daddy? Could it be Stevie J? Or is it Young Dro, as Internet rumors are suggesting?
Looks like we'll find out (at least the answer to the question of whether or not she's actually pregnant) next week when the second part of Love & Hip Hop Atlanta: Exposed & Unfiltered airs.
Be the first to receive breaking news alerts and more stories like this by subscribing to our mailing list.