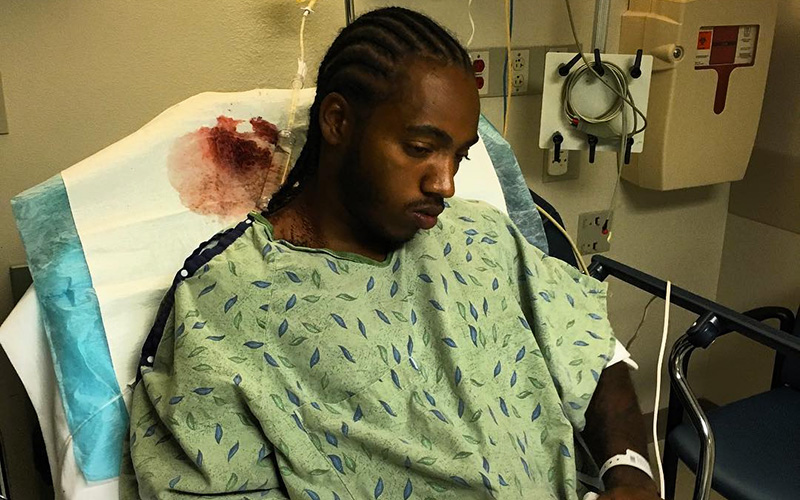 As much as we all love to poke fun at the ratchet reality show, this Love & Hip Hop Atlanta story is no laughing matter. Cast member Sas has been shot.
The rapper (real name: Lyndon Akhil Smith) was rushed to the hospital Saturday night (Jul 2) after suffering a bullet wound to the head. Luckily, he is expected to recover from the injuries. He was even able to take to Instagram to keep fans informed. One pic showed dried blood on his pillow and he appeared in high spirits in a follow-up video post.
"The doctor just told me I got a bullet in the back of my head," Sas said. "They said I got a thick skull. Y'all pray for me though. I appreciate all the love and support. God got me. Allah got me. I ain't tripping."
https://www.instagram.com/p/BHZdADEAPy8/?taken-by=sas_nbl
https://www.instagram.com/p/BHZcMQ4glnD/?taken-by=sas_nbl
Sas is clearly trying to put on a brave face. We can only imagine the pain, fear, and pure shock he must be feeling during this difficult time. Allegedly, doctors say Sas could have been paralyzed (or killed) if the bullet wound was just three millimeters lower.
No information has been released regarding the shooting. The shooter is unknown as well as what lead to the shooting. We're also hearing LHHATL cameras went to the hospital to film the aftermath.
Sas joined LHHATL in the show's current fifth season. His family has provided the most "real" and serious storylines of the season. His brother, Scrapp DeLeon, was sentenced to five years in prison for trafficking marijuana. Their mother, Karen "KK" King, was arrested for theft by financial identity fraud after filming wrapped. And on top of all of that, the three of them, along with Sas and Scrapp's younger brother, were involved in an attempted murder plot.
Our thoughts and prayers are with Sas and his family.
Be the first to receive breaking news alerts and more stories like this by subscribing to our mailing list.