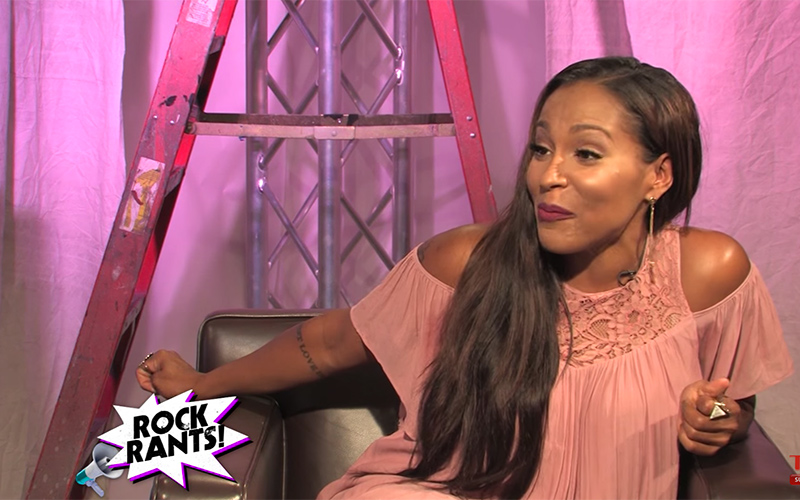 When you take an L, sometimes you've just gotta know when to fold 'em.
After playing tug of war with Tara Wallace over Peter Gunz's twig and berries for damn near three years on Love & Hip Hop, Amina Buddafly has finally wisened up and decided to call it quits. At least for now.
The part-time singer has packed up her life and her daughter and moved from New York to L.A., she said in an interview with TMZ's Rock Rants.
"I needed to get away from the drama, from the crazy situation that I was in. I needed to make a change, because I waiting for a change from someone else," said Amina.
In terms of the future between her and Peter, Amina pulled no punches. "He's not somebody that I want to continue to be in a relationship with, that's for sure," she said.
But when the Raquel from TMZ pressed her on if she'd get a divorce from Peter, Amina softened her response.
"Eventually, if things stay the way they are," she said. "When I'm ready, I will apply for divorce if things stay the same."
As for her relationship with Tara Wallace, Peter's longtime baby mama and ex-girlfriend, Amina paid respect to her and said she's "not a bad person." But she also made it clear that she felt some type of way about Tara getting pregnant AGAIN behind her back. The two were apparently on the path to becoming cool with one another, but the pregnancy and birth of Tara and Peter's newborn son threw a monkey wrench into that.
"There was that time last year that we were really cool. Like she actually came to my daughter's birthday," said Amina.
But the beginnings of that friendship between Tara and Amina are gone. "I don't wanna be her friend at all. I don't have no intention of being her friend," said Amina.
Sounds to me like Amina is still in that flip-flop wishy washy space with her caveats about divorcing Peter ONLY if "things stay the way they are." Amina clearly doesn't love enough to truly walk away from the mess. I wish she'd do better.
Watch the entire interview with Amina Buddafly below.
Be the first to receive breaking news alerts and more stories like this by subscribing to our mailing list.