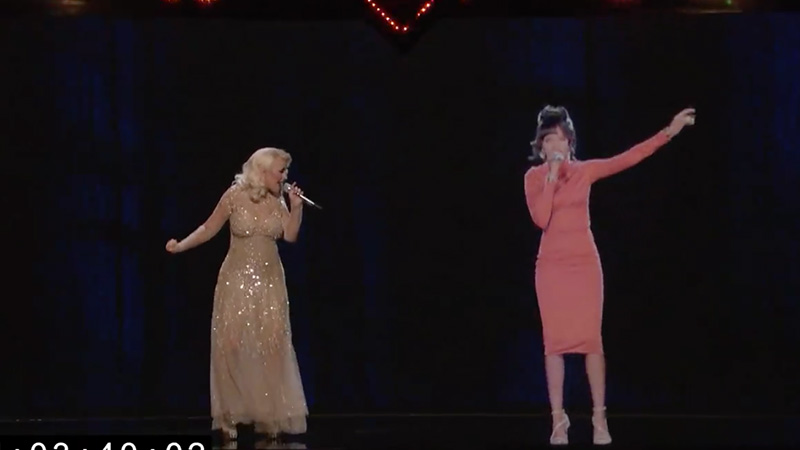 Here's one more scandal, brought to you by holograms.
If you know anything about Christina Aguilera, you know she loves Whitney Houston with all her heart. So you can probably imagine how crushed she was when the Whitney Houston estate pulled the plug on a scheduled posthumous duet between the two singers that no one ever asked for.
The Voice had planned on airing a performance between the divas next week during its Season 10 finale. But Pat Houston, Whitney's sister-in-law and executor of her estate, released a statement telling you and everyone else why that will not be happening:
"We are so appreciative of the opportunity for the Whitney Houston hologram to appear on NBC's The Voice with a talent pairing as extraordinary as Christina Aguilera and Whitney Houston. We were looking to deliver a ground breaking duet performance for the fans of both artists.

"Holograms are new technology that take time to perfect, and we believe with artists of this iconic caliber, it must be perfect. Whitney's legacy and her devoted fans deserve perfection. After closely viewing the performance, we decided the hologram was not ready to air. We have much respect and appreciation for Christina, and she was absolutely flawless."
Lucky for us, a video of the performance has leaked online, and it shows Whitney and Christina singing together flawlessly. They brought back 90's Whitney with the updo to help Christina sing "I Have Nothing" and "I'm Every Woman." The vocals are on point, and Whitney even has a majestic, on-stage wardrobe change.
So even though the performance part of the situation went well, here are the reasons I think this didn't work out:
1. No one ever asked for this.
2. Lighting issues make Whitney's hologram look like a light-skinned-Aunt-Viv version of herself.
3. Christina's opaque cape with the hood… O_O
4. Whitney looks a little flat … as in two-dimensional.
5. And Whitney's hologram should be making an appearance somewhere a bit more important than The Voice's tenth season finale.
We love Whitney. She is a legend. Watch her hologram harmonize from heaven in the video below, and keep your eyes peeled for a crying Pat Houston at the end of the clip.
Be the first to receive breaking news alerts and more stories like this by subscribing to our mailing list.