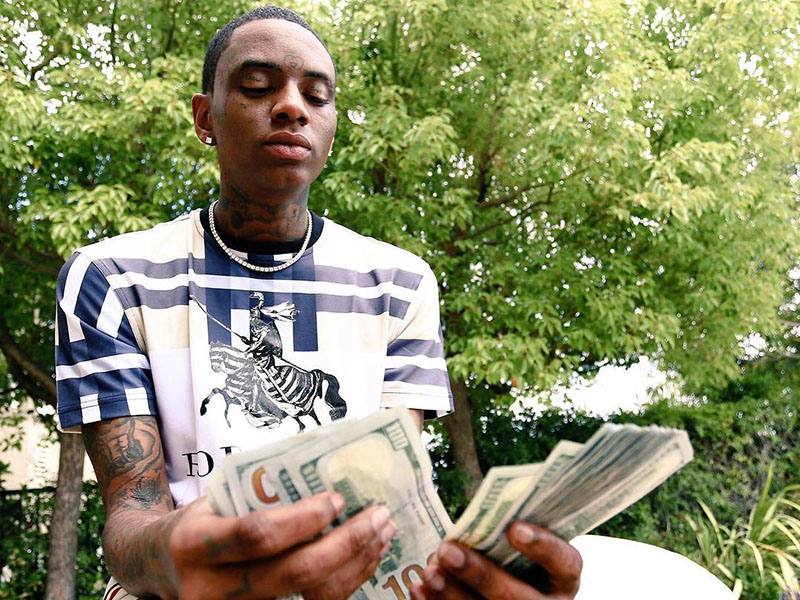 Earlier this month, Soulja Boy shocked the web when he tweeted that he had landed a deal worth $400 million.
Besides making the announcement, Soulja didn't give any details on what the deal was or who it was with, leaving many to wonder if the whole thing was a desperate attempt by Soulja Boy to get everyone's attention.
$400 million deal confirmed. I still they think they low balled me though. I was thinking 2 or 3 billion..

— Soulja Boy (Drako) (@souljaboy) May 1, 2016
Well it turns out, Soulja wasn't lying after all and he will be cashing in on some very BIG coins.
World Poker Fund confirmed in a press release Friday (May 20) that they have struck a 5-year endorsement deal with Soulja Boy, who they believe will "mobilize his network" to promote the company's online gaming assets, which will also include their soon-to-launch "in-flight gaming" platform.
The company bills itself as the leading developer and operator of online and event based social gaming platforms and brands, on their website.
In the press release, WPF labeled Soulja Boy as one of the most influential urban entertainers and artist on social media, and compared their deal with Soulja Boy to Diddy's deal with Ciroc and 50 Cent's with Vitamin Water.
Soulja Boy also released a statement in World Poker Fund's press release explaining why he will be a great addition to the company.
"I invest in things I understand. I enjoy music, and of course gaming. Being an influencer is a form of currency. Having portfolio diversification is critical if you want to be an effective brand ambassador. With regards to World Poker Fund, I believe in its strategy, its team, the vision, and management's ability to target its financial goals."
President of 1-800-PublicRelations and spokesperson and publicist for World Poker Fund Holdings Matthew Bird also bragged about Soulja and how he has already been able to build the company's brand.
"The world of marketing is changing, today's biggest influencers are not brands, but individuals who create content that drive loyalty and brand sentiment. We no longer are fed content from major news networks — we seek it out and consume it by individual influencers that enrich our lifestyles. Soulja Boy represents the best of the best and we are already seeing the impact from his presence."
Last week, Soulja announced that he had signed to FilmOn Records, the same label that signed Chief Keef and suspended him in November for management issues. He also posted a pic on IG of him and FilmOn CEO and billionaire Alki David with the caption, "I'm in the fam."
https://www.instagram.com/p/BFSM2mULjyN/?taken-by=souljaboy
In April, Soulja Boy was credited as a writer on Beyonce's Lemonade album after his 2008 hit "Turn My Swag On" was sampled on "Hold Up."
Soulja Boy currently owns his own label SODMG Records and a shoe line called SBeezy Lights.
Can you say … winning?!?!?!?!?!?
Be the first to receive breaking news alerts and more stories like this by subscribing to our mailing list.