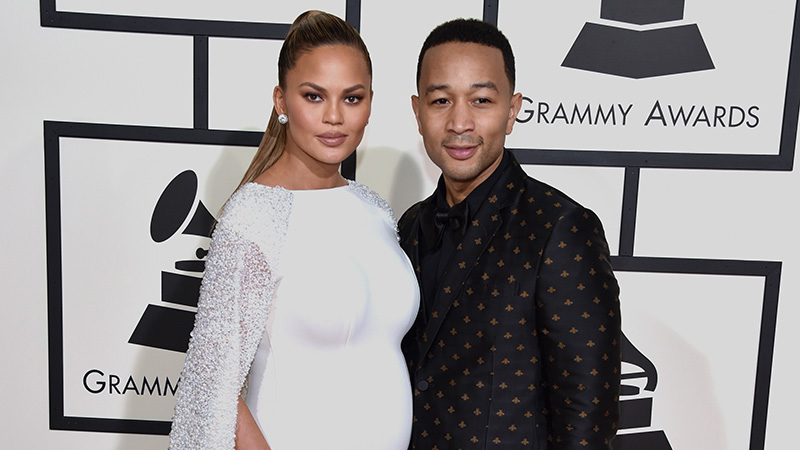 A "Legend" has been born!
One of the cutest celebrity couples ever — Chrissy Teigen and John Legend — are officially parents after welcoming their firstborn into the world, and her name is Luna Simone Stephens.
Teigen and Legend (real name: John Roger Stephens) saw their baby girl come into the world on Thursday (Apr 14), however, mom and dad decided to wait until early Sunday morning (Apr 17) to make the announcement on social media.
"She's here! Luna Simone Stephens, we are so in love with you! And sleepy. Very sleepy," Chrissy wrote in the caption of a photo on Instagram showing the baby's weight (6 pounds 11 ounces) and the date she was born.
"Our new love is here!" John tweeted. "Luna Simone Stephens, born on Thursday, the 14th. We couldn't be happier!"
Our new love is here! Luna Simone Stephens, born on Thursday, the 14th. We couldn't be happier!

— John Legend (@johnlegend) April 17, 2016
30-year-old Chrissy Teigen has been very open about her struggles to conceive a child, and last year, she revealed that she was undergoing IVF treatments.
Teigen announced her pregnancy news on Instagram in October, and the pair shared the following December that they were having a baby girl.
The couple, who've been married since 2013, celebrated the impending arrival of their daughter with not just one, but two baby showers. One was held in New York, and the other was in Los Angles, the latter of which was hosted by Kim Kardashian.
Chrissy revealed to People magazine back in February that she and John chose a female embryo specifically so that they could have a baby girl,
"I've made this decision," Teigen said. "Not only am I having a girl, but I picked the girl from her little embryo. I picked her and was like, 'Let's put in the girl.'"
As for more kids in the future, it sounds like Chrissy and John are just getting the party started.
"The number of embryos we have left is not matching the number of people I want at my dinner table, so I'll have to do it again," Teigen explained to People. "I wish I had frozen my eggs earlier. We have a few more on ice. Who knows what will work?"
In a separate interview with Self magazine, Chrissy explained her and John's family plans even further.
"I think I'll probably be pregnant all through my 30s," she said. "I've always pictured everyone around the table for the holidays and together once a week. It'll be heartbreaking if it doesn't end up happening, but hopefully it will. We've got some embryos on hold."
As for the number of kids she wants?
"Four is good, I think. And then, maybe a dog after," she said. "I hope that when we do have those four kids, John and I can look at each other and know that it's us against them. We are going to love the sh*t out of our kids, but we are going to team up and fight in pairs!"
Be the first to receive breaking news alerts and more stories like this by subscribing to our mailing list.