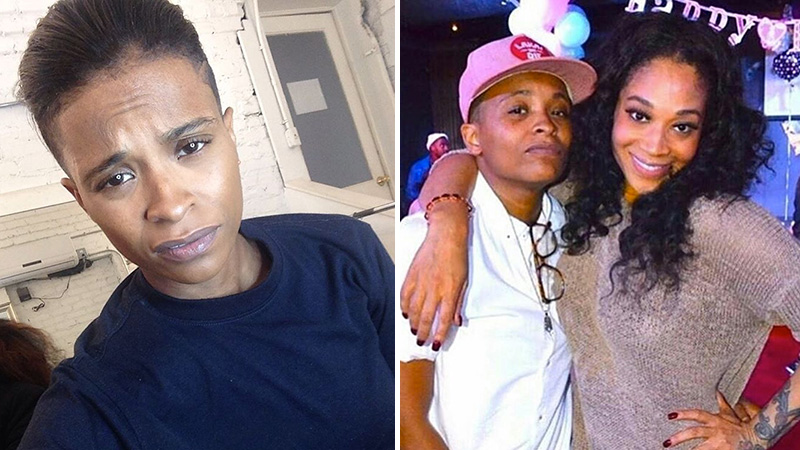 Mimi Faust's "girlfriend" Chris Gould is spilling all the tea on their relationship.
Gould was introduced as Faust's new lesbian lover during the Season 5 premiere of "Love & Hip Hop Atlanta" Monday night (Apr 4).
While some viewers of the show seemed just as "shocked" as her castmates, a lot of people on social media accused Mimi of being "gay for pay." Even Stevie J chimed in, saying that he doesn't want their daughter Eva being raised on a lesbian household.
But who is Chris Gould? Where is she from? How did she and Mimi meet? And is their relationship the real deal holyfield? Chris answered all of those questions and more in a recent interview with VH1.
https://www.instagram.com/p/BDlys0Qli_l/
Chris says she was "born and raised" in Atlanta and she's a personal injury paralegal with aspirations of making it in the music world.
As for how she met Mimi, it sounds like Mimi chose her:
"I met Mimi at a club through a mutual friend who had invited me out because Mimi had a booking. I was in her VIP and after the club was over, she pulled me to the side and she was just like, 'I find you intriguing.' I was like, 'Oh, okay.' [Laughs] They had an after party at Mimi's house and at the after party, we just kept always separating, just me and her, in conversation. It was just us two, and it kinda went from there."
Chris said she didn't know much about Mimi at first because she doesn't watch "a lot of TV, period," but she admitted she knew about the sex tape and that Mimi "was on Love & Hip Hop." She said, "[Those were] the main two things that I knew about her."
Gould added that while she was well aware of the sex tape, she didn't end up watching it until after they were a couple. "I felt like I needed to see it because it was like the elephant in the room. I'm not going to lie to you, it was awkward," she said.
Making things even more awkward was the fact that Mimi's love life was sprawled all over TV too, most notably her failed relationships with folks like Stevie J and Nikko.
"I definitely didn't want to get involved with that stuff. I'll tell you I had a very new perspective from it. At first, I just wanted to hit. [Laughs] It kind of progressed from there," Chris said.
"We had this connection, from the few years she spent in Atlanta as a child, we found out we grew up in the same apartment complex. You go in with one thought process and then you get to know somebody and then it kind of comes with the territory. But hell yeah, nobody wanted to deal with that craziness at all."
Chris then went on to talk about the moment when she realized she was in a "real life relationship" with Mimi, a run-in she and Faust had with Nikko, and how Love & Hip Hop Atlanta producers asked her to be a part of the show:
VH1: At what point did you realize that it was becoming a real relationship?
Chris: The first time I felt like, okay, we're together it was Halloween of last year. We went Halloween decoration shopping with Eva, and I've never dated anybody with a child, so I did have this moment of, this is for real. Like, a real life relationship. The ironic part? We came home and Nikko is waiting outside of her house.

Her homegirl was at the house and was like, Nikko's outside. We come and we pull up and he kinda forcefully goes, "I wanna talk to you," and I allowed those two to have closure. I wanna say at that moment I felt like it was real because I respected her so much I was so concerned. I was in the house concerned is he…even though I'm a buck twenty, I'm like, I'll jump on this guy if he does anything wrong. I think that was the first inkling of like, okay, we're together.

And how did Love & Hip Hop come to be? How did you agree to live your relationship out on television?
They asked if I wanted to do the show and I was like, "Yeah and tell the whole world that's my woman." That's the gist of it. I was down for it because I don't think anybody's ever seen somebody like me on TV.
https://www.instagram.com/p/BDzE6V3li7K/
The scenes we saw in the LHHATL Season 5 premiere were likely shot months ago, so it remains to be seen whether Mimi and Chris are still together. Though it may be worth noting that neither of them are present on each other's Instagram pages, so there's that.
Guess we'll have to keep watching the show to see where things between these two go from here.
Be the first to receive breaking news alerts and more stories like this by subscribing to our mailing list.