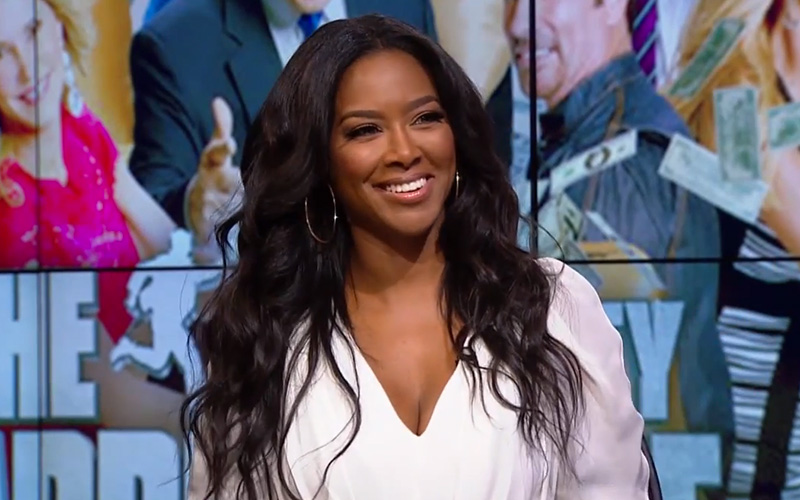 We all know Kenya Moore as the "reality TV villain," and though she's often the subject of controversy on whatever show she's starring in — whether it's "Real Housewives of Atlanta" or "Celebrity Apprentice" — the former Miss USA hopes that her stint on the Donald Trump series will show the world that she's more than just a Bravo "Housewife" that likes to stir up drama.
"I think that I show people a very different side because what I've been getting in terms of feedback from the Twitterverse and social media is that they really enjoy watching me on this show," Kenya told EURweb at the TCA (Television Critics Association) Winter Press Tour on Friday (Jan 16).
Kenya has never been afraid to make enemies and speak her mind on "Real Housewives," and she's doing the same on "Celebrity Apprentice."
"I came to win," Moore continued. "I came to win money for my charity. I came to show people a different side of me. And although multiple people tried to derail me from that and make it personal [with] imaginary drama – like Brandi [Glanville] – I decided to take a higher road and I think people really appreciated me for that."
Instead of getting physically combative with others, Kenya uses her mouth to piss people off — whether she's irking Porsha Williams and causing her to react violently on last season's "RHOA" reunion show, or telling Donald Trump about Keshia Knight Pulliam not asking her former TV dad Bill Cosby for money (before the rape scandal) during a fund-raising challenge, which ultimately got Keshia fired.
When asked to consider how negatively black women are depicted on reality TV, Moore said she believes there's a clear double standard, pointing to Kerry Washington playing "the president's whore" on "Scandal," or Viola Davis acting as a "conniving, cunning woman adulterer who is having an affair" on "How to Get Away With Murder."
"As a whole, there are going to be depictions of us that are negative and depictions of us that are positive, and then you're going to have a bit of both," Moore said. "I think what makes our show successful overall is that we are showing real live people argue. But they also have resolution in real life and we show that, too."
If watching Kenya act the fool on "Real Housewives of Atlanta" Sunday nights on Bravo isn't enough for you, you can catch her Wednesday nights on "Celebrity Apprentice," which airs on NBC at 9/8c.
Be the first to receive breaking news alerts and more stories like this by subscribing to our mailing list.