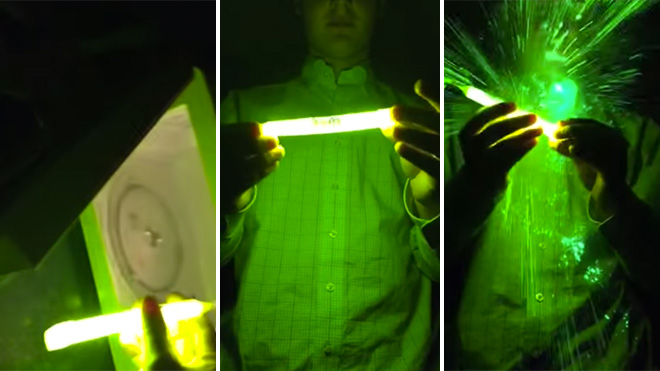 Teenagers. They sometimes do dumb things, despite warnings from their parents, that hopefully they learn from, and hopefully Jack has learned not to microwave glowsticks, because don't.
All Jack wanted to do was see exactly what happens when you microwave a glow stick. So, like any other dumb teen, he did it, and also inadvertently created one of the most hilarious viral videos to date, all while getting hot, poison glow stick goo all over his "AWESOME SHIRT!"
The star of the video is Dad though, who is PISSED because he has to help his "ding-a-ling" son out for doing something he clearly told him not to do, so he goes on the best dad rant ever. Here are some hilarious quotables (via Daily Dot):
"Goddammit, Jack. Come here. I have no clue what to do with this."

"I've got to see what to do, ding-a-ling."

"Where's the stuff on this, Jack?"

"Not to mention, it's all over your awesome shirt."

"Yeah, no shit. I said don't microwave it. Don't screw around. Which you do with a beautiful shirt on and get it in your eyes."

"Am I ever right, Jack? Can you ever listen? Get this off."

Jack: "It's in my fuckin' eye! AHHHHH!"

"Just sit there and keep flushin' away with water."

"You knocked Mom's spider thing down too. Unbelievable."

"I'm sure you're sorry now, Jack. You can always be sorry after."
Do you EVER listen, Jack? Is Dad EVER right, Jack? Unbelievable!
Watch the HILARIOUS video above!
Be the first to receive breaking news alerts and more stories like this by subscribing to our mailing list.