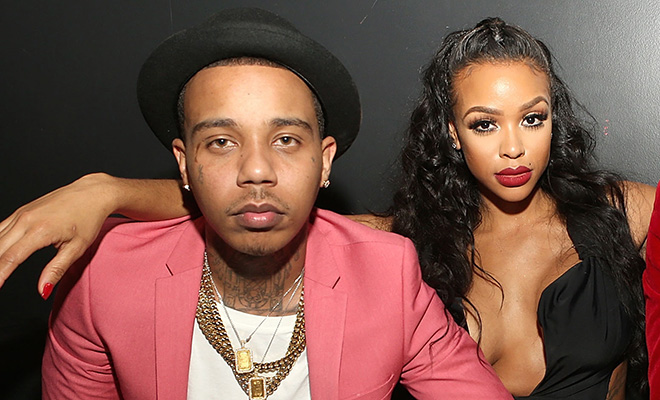 Rapper/producer Yung Berg calls himself the "HitMaka!" and he lived up that name recently … not musically, but physically.
Yung Berg has been fired from VH1's "Love & Hip Hop Hollywood," and it's all because he got arrested for beating up his girlfriend Masika Tucker, who is also on the show.
According to TMZ, 30-year-old Christian Ward (Yung Berg's real name) was arrested at the Gershwin Hotel in New York City last Wednesday (Nov 5) after he attacked Masika. He was charged with "obstruction of breathing," which is another way of saying he strangled/choked her in some kind of way and restricted her breathing at some point.
During the fight, Berg is said to have grabbed 29-year-old Masika Tucker by the throat, dragged her across the hotel room they were staying in and punched her in the face.
Sources say the fight happened after Berg got pissed over his credit card being declined earlier that night.
According to sources close to Yung's GF, Masika Tucker … after a booze-filled night at the "Love & Hip Hop: Hollywood" reunion show in NYC, Berg went to pay his bill, but the card was over the limit.

Yung stormed out, went to his hotel and Masika followed. She told him she paid the bill and schooled him for leaving her … and he reacted by grabbing her by the neck, throwing her on the bed and pulling her out of the room by her hair.

Yung then allegedly continued his assault by choking her out.
Though Masika refused medical attention, Berg was still charged and subsequently fired from LHHH due to the severity of the domestic violence allegations.
It's funny … this guy can beat up on women, but he didn't even attempt to lift a finger back in 2008 when his Transformers chain was being passed around the Internet.
Meanwhile, Masika (who appears on a reality show now, remember?) is asking for "respect" and "privacy" over this "personal" matter, not fully understanding that she lost all of that when she signed up to have her life documented on a show produced by VH1 and Mona Scott Young. Poor thing.
Thank you for all the love & support. This is a personal matter & I will address it soon. In the meantime I ask that my privacy be respected

— Masika Kalysha (@masikakalysha) November 10, 2014
Be the first to receive breaking news alerts and more stories like this by subscribing to our mailing list.