For some strange reason, the RHOA marriage that was built on the back of rehabilitated felons, false due dates, reality television stunts and sperm donation, has completely fallen apart.
Despite all of the protests from Phaedra and Apollo throughout the years, it's always been obvious that their mismatched marriage was more of a business arrangement than a pure passion play.
Apollo, an ex-felon, was chosen by Phaedra to be her light-skinned sperm donor and beefcake. While true commitment and dedication between the two was never really there, Phaedra's lust for Apollo was always palpable. In exchange for his seed and ripped body, Phaedra offered Apollo a redemption story, fame and a national platform.
But Apollo broke the rule of engagement when he crept back to his criminal ways and got busted and charged with committing identity theft and bank fraud. Phaedra, who for several seasons has insisted that her ex-felon husband had changed his criminal ways, looked like the biggest fool and Apollo ultimately lost his freedom as he was sentenced and put away in federal prison — again.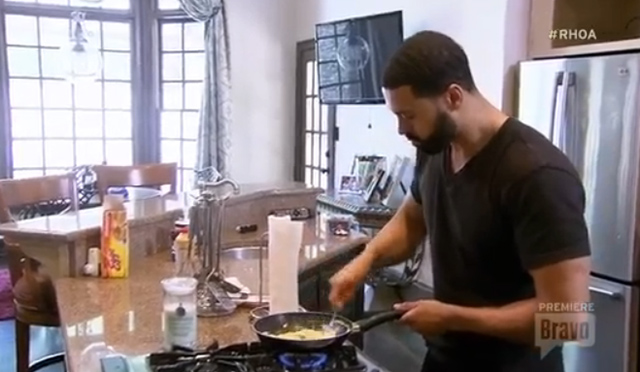 The first episode of season 7 focuses almost entirely on the melodrama between Apollo and Phaedra. Apollo is preparing for his day in court while Phaedra has fled their home and is instead hiding out in a hotel with her two sons.
Apollo is understandably upset that his wife isn't holding him down Pimp Squad-style while Phaedra is insistent that this spilt milk isn't her mess or responsibility to clean up.
Pastor Regina, Phaedra's mom, hangs out with her daughter and the boys while they're in the hotel and Apollo breaks down as he explains to his white half-brother about how hurtful it is that Phaedra refuses to be by his side.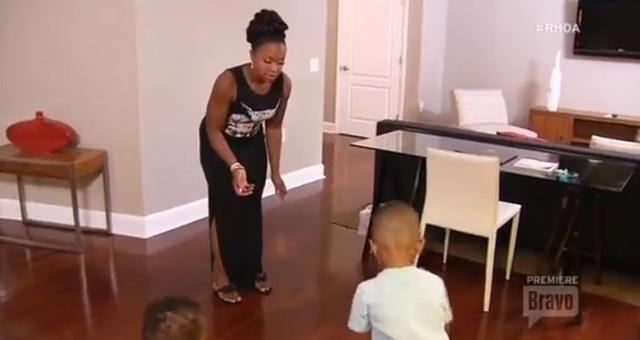 In a way, you can understand Phaedra's decision. Her boys are young and she'd rather shield them from this entire episode than put them in the middle of it. On the other hand, it's easy for Phaedra to make this decision because she essentially got what she wanted from her relationship with Apollo: Two children.
If there was even a single drop of love or loyalty in Phaedra for Apollo, her butt would've been in that courtroom. Phaedra may or may not have known about Apollo's renewed criminal behavior (count me in the camp who believes she knew what was going on), but she for sure knew that Apollo was an ex-felon when she married him so she can't be too surprised that he relapsed. A leopard don't change its spots, y'all.
As Apollo goes through the different hearings and sentencings, Apollo reaches out to his mother and brother, who dutifully stand by his side, and also his fellow RHOA house husbands, Todd and Peter.
Apollo even turns up at Kandi and Todd's house at one point to get some bro-therapy from Todd and Kandi, who is firmly loyal to Ms. Phaedra and looks at Apollo with disgust and loathing just like how Penelope Pussycat looks at Pepé Le Pew.
"Shouldn't he be spending more time with his family?" Kandi asks.
Well, his family doesn't want to spend time with him. So what do you want him to do, Kandi?
Apollo and Phaedra's Marriage Reaches the Point of No Return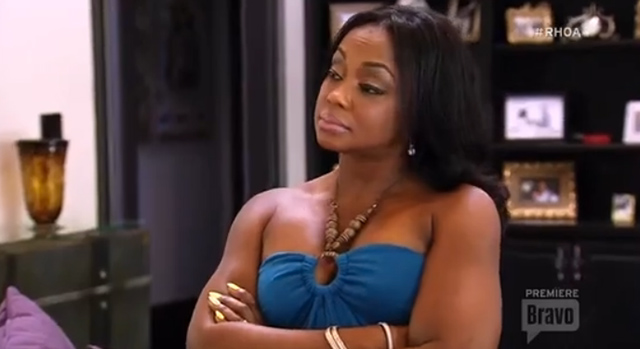 By the end of the episode, we learn that Apollo has pleaded guilty to the charges and will be serving 8 years in prison for his crimes. At this point, Phaedra makes her way back to the house once the sentence has been delivered. When Phaedra walks through the door, she's confronted by a pool-playing Apollo who is none too pleased that his supposedly loyal and loving wife went Casper on him.
In a rather unwise decision, Phaedra decides to engage Apollo in an argument in front of their baby boy Dylan. After casually asking Apollo what's going on and handing the baby over to him, he blows up on Phaedra for abandoning him and he starts spilling all their secrets.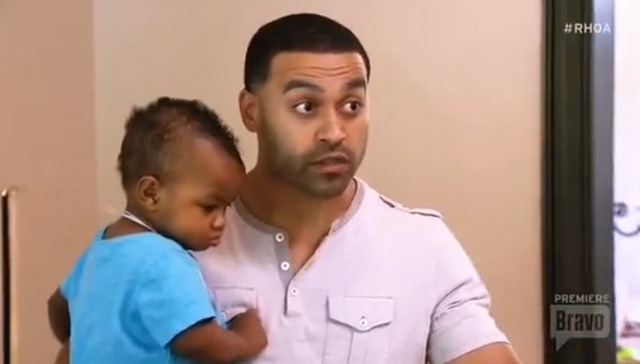 I'm talking about Phaedra promising to take care of him financially, holding out bank account funds from him, throwing mortgage payments on him after he just got out of prison and more. If Apollo is to be believed, Phaedra may not have aided and abetted Apollo with his crimes, but she certainly did pressure him to make it rain on the household, which ultimately led him down a path that he knew would bring in the wealth Phaedra's fancy and famous lifestyle demanded.
This shit is getting deep.
By the time the episode ends, Apollo announces he'll be seeking a divorce. Phaedra seems surprised, but unbothered by this announcement and tells him if that's what he wants, then fine. Uh, Phaedra, exactly how did you intend on continuing a marriage with this man when you literally left him hanging in his hour of need?
Sidenote: When Kandi shouted out Hillary Clinton as an example of a ride-or-die chick for holding Bill down even when he was in the hot seat for getting his wee-wee sucked by Monica Lewinsky, I know her campaign manager furiously dialed Andy Cohen to give him and Bravo execs an earful.
NeNe Is Still Acting Like She's Too Good for RHOA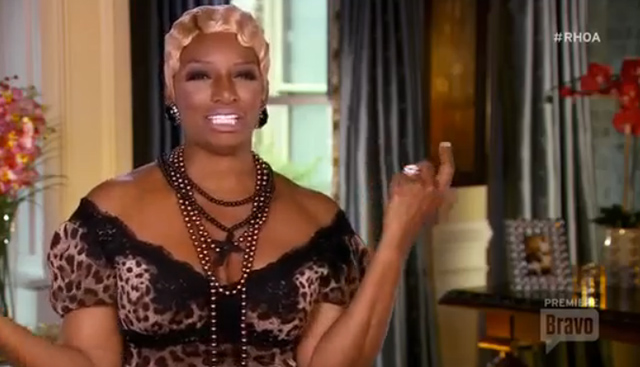 The other major storyline of the first episode revolved around NeNe's Vegas stint at the Cirque du Soleil's Zumanity show.
NeNe is so busy PRETENDING that this is a step up for her when it's very much a demotion for her careerwise. She went from a starring role in a network television show to playing a glorified drag queen in the kitschy New York, New York hotel in Las Vegas.
The only thing that might've been worse is if she booked a job playing Chuck E. at her local Chuck E. Cheese's.
The funny thing is that NeNe recognizes that there's an unsavoriness to this whole Zumanity thing. So she pretends to be disgusted by the orgy scene and she feigns shock and awe at the raw sexuality on display.
A former stripper cannot pull the Mother Theresa act 10 or 20 years after the fact, NeNe. So cut it out. You needed a paycheck after "The New Normal" got cancelled and you were welling to play ringleader to a softcore porn show. Embrace it, boo.
I don't know about y'all, but I'm very tired of NeNe and her boring little sideshow. She's got a wicked sense of humor and she throws shade with the best of them, but it's just not interesting watching what is essentially a solo sideshow in what should be a compelling ensemble performance. NeNe needs to shit or get off the RHOA pot.
One thing I found immensely amusing was the scene where NeNe was being fitted for her Zumanity wig. Maybe I just don't know about hair systems, but I didn't know you could put a wig on top of a wig.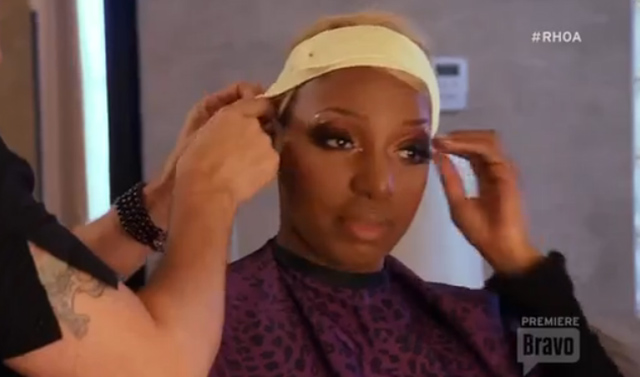 Her hair stylist very clearly slips a wig cap on top of NeNe's short blonde wig and the whole time I was thinking: Is NeNe pulling a wig layering move to ensure her scalp stays warm and toasty like those taquitos on the hot dog roller at 7-11?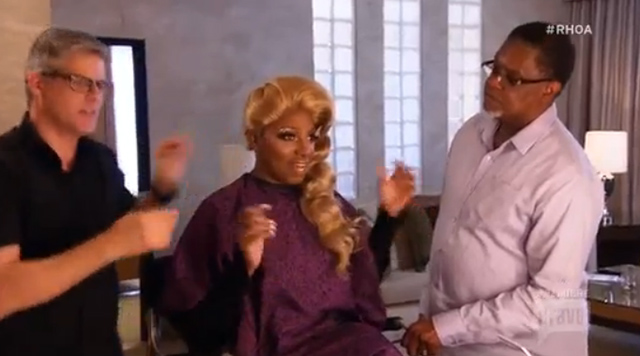 I'm so confused.
This season will be action-packed as we dig into the Kenya storyline and we're introduced to the newcomers, Claudia Jordan and Demetria McKinney. I have a feeling that NeNe is gonna pull a Kim Zolciak and quit midway through the season though. Ultimately, it'll probably be for the best since NeNe's clearly half past over it at this point.
Be the first to receive breaking news alerts and more stories like this by subscribing to our mailing list.