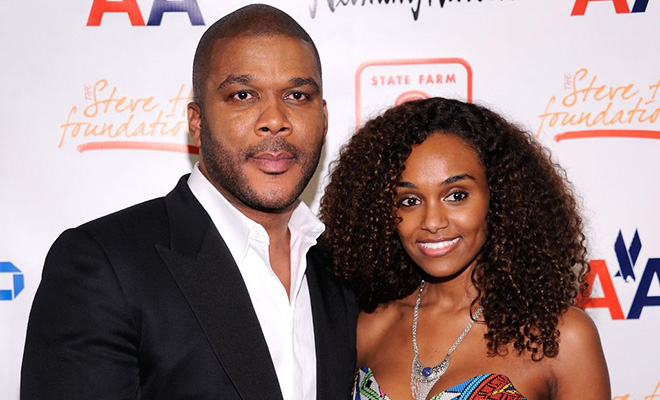 Tyler Perry will be in the business of changing diapers and carrying out other fatherly duties VERY soon … because People Magazine is reporting that the award-winning actor/producer and his longtime girlfriend Gelila Bekele are expecting their first child together.
Bossip broke the news first a few days ago, reporting that Perry had made the big announcement during his 45th birthday bash in Georgia this past weekend.
According to E! News reporter Marc Malkin, Mr. Perry didn't exactly "announce" that he and his girlfriend were having a baby, but he did "allude" to it during a speech at the party:
"He said he had to start getting used to not getting a lot of sleep, because his life was about to change in a big way," a guest at the bash tells me. "He said, 'Some of you know what I'm talking about.'"

The guest said Bekele is about "seven or eight months pregnant."

A friend of the couple reportedly shared the news on social media, but the post was quickly deleted.

Another pal posted of pic on Instagram of himself with Bekele about a month ago, identifying her as a "new good friend" who was seven months pregnant with a "baby boy." Yup, that post has been deleted, too.
Of course Perry is declining to comment on the pregnancy rumors, so we'll just have to wait until the baby pops out in a couple months to hear something (if anything).
Meanwhile, sources close to the couple tell People that they are both extremely excited about being parents and are already preparing for the new baby.
"Tyler is thrilled. He and Gelila are so excited," one source said. "They've got the nursery ready and he's ready to change diapers."
A second source added, "He will make a wonderful father. You will never find a more loving, patient, honorable or decent man than Tyler Perry. Any child would be blessed to have him as a father."
Ironically, in an interview in 2013 with Steve Harvey, Perry predicted he would have a child by the age of 45, and, well … looks like he was right!
Be the first to receive breaking news alerts and more stories like this by subscribing to our mailing list.