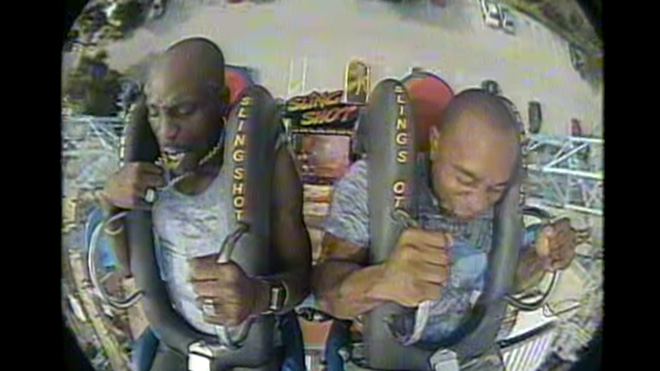 One of Hip Hop's remaining treasures DMX found himself on the wrong side of fear recently while riding the "Slingshot" amusement park ride in Orlando, Florida … and of course it's on video!
The website for the Slingshot describes the ride as "one of the most heart pounding, adrenaline pumping, exhilarating thrill ride experiences in Central Florida." It is also considered the "World's Largest Slingshot" and throws you at least 390 feet into the air.
DMX is usually the one to invoke fear in others, so it was not only nice, but also pretty hilarious, seeing it the other way around.
"I ain't gon' front, this some scary shit n*gga … This some scary shit! THIS SOME SCARY SHIT! … THIS SOME SCARY SHIT N*GGA, THIS SOME SCARY SHIT! …. WHOA WHOA WHOA!!! WHAT?!? WHAT?!? WHAT?!?"
And this is all BEFORE the ride even started!
The best part happens at the end when after X screams his head off and brags about having a "stone-cold ice face, like we wasn't scared" … he realizes there's a camera that's been recording him the entire time documenting exactly how scared he really was.
Watch the hilarious video up top!
Be the first to receive breaking news alerts and more stories like this by subscribing to our mailing list.