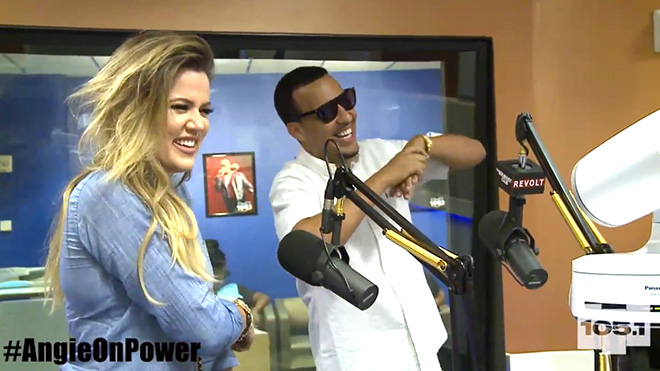 Our favorite new celebrity couple Khloe Kardashian and French Montana discussed their relationship and more earlier this week in their first joint interview together with Power 105's newest host Angie Martinez.
During the interview, Khloe and French talked about how they first met (through Diddy) and how they don't give a dayum(!) about what the world thinks about them being together.
"People are gonna comment no matter what. If I dated the most clean cut perfect guy, they're gonna comment. That's just the way it is. If I'm having fun and if I like this kid, no one else should care, they're not f*cking him. Or maybe they are, I don't know," Khloe said of her relationship with French.
Speaking of "f*cking," French Montana is a Sunni Muslim and has been observing Ramadan since June 28th. He's not allowed to eat until sundown, nor is he allowed to indulge in worldly behaviors such as drinking liquor, smoking or having sex for a full month.
"That's no eating, no drinking, no smoking," Martinez noted. "Wait – there's no sex! How's that been?"
"So fun," Khloe replied, flashing a sarcastic smile. "That's why he's wearing all white. He's so pure and holy, he's virginal.
"You could technically torture him right now," Martinez added, to which Khloe cheekily replied, "I have been. Every single day."
Earlier in the interview, Khloe talked about her rapper boyfriend's softer side, which he only shows to those who are close to him: "He's probably one of the funniest people I've ever met in my life, you cannot stop laughing, crying laughing."
"I think he puts out there a tough exterior but there's another side of him that he keeps more private," she added. "I've learned from my past you've got to keep some things private, a little more close to your heart."
French spoke highly of his girlfriend too. "Khloe's cool as hell," he said, adding that it was Diddy "who put us together."
French also revealed that he would be making a couple of appearances alongside Kim Kardashian's new husband Kanye West on "Keeping Up with the Kardashians." He said, "They called me a couple of times for the new season, they got me. They got Kanye [West] on there."
Be the first to receive breaking news alerts and more stories like this by subscribing to our mailing list.