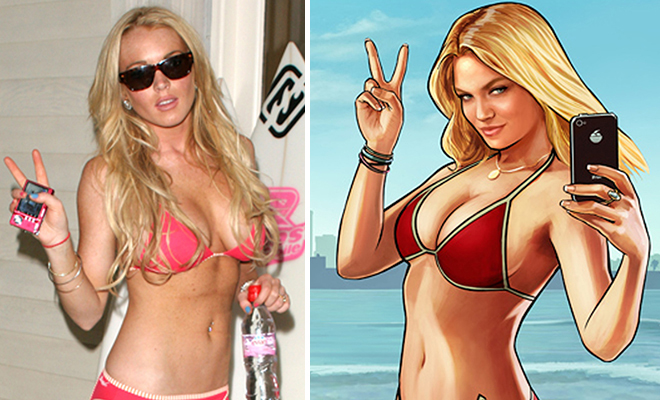 Lindsay Lohan is reportedly suing the makers of the popular video game "Grand Theft Auto" over the likeness of a character that she believed is directly derived exclusively from her.
Lohan filed the lawsuit last Wednesday (Jul 2) against Grand Theft Auto V's developers Rockstar Games and Take-Two Interactive Software claiming they used her image and likeness without her permission.
So does that mean she would have been OK with it if they asked her (and, of course, paid her money) first? Probably not, but that's her story and she's sticking to it.
According to Yahoo Games:
Lohan, who's tumultuous personal life has earned her far more fame than her onscreen roles, believes that a minor in-game character, Lacey Jonas, is based on her likeness. The suit also notes that the game features the infamous Chateau Marmont hotel, where Lohan once lived in West Hollywood.

In the game, meeting Jonas launches an optional side mission in which players must escape an aggressive gang of paparazzi.

"Can you give me a ride past them, please?" asks the character. "I'm hardly wearing any makeup. This is a disaster. I'm so [expletive] fat. How's my hair? Do I look cute?"

Once the photographers have been ditched, the character complains about the difficulties of fame, noting a divide between her and her parents and hinting at an anorexic lifestyle.
It also doesn't help that the woman used on the promo posters for GTA V really resembles Lindsay Lohan.
Reps for Take-Two and Rockstar have declined to comment on the lawsuit because it's against their policy to publicly discuss legal matters.
Be the first to receive breaking news alerts and more stories like this by subscribing to our mailing list.