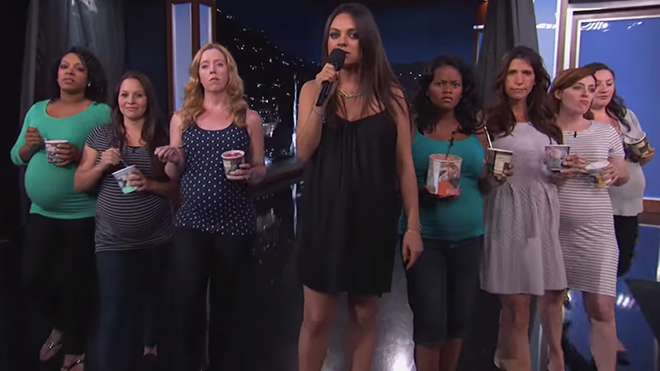 Mila Kunis has a serious issue with expectant fathers who go around saying "we are pregnant."
According to her, there is no WE, only a SHE, because HE doesn't have a human growing inside of him like the mother other does.
Ashton Kutcher's pregnant fiancee made an appearance on "Jimmy Kimmel Live!" last Tuesday (Jun 10), and while there, she and Kimmel briefly talked about anticipating the arrival of their future children before Kunis broke out into a hilarious feminist rant about squeezing watermelon-sized people out of lady holes and things.
Via Us Weekly:
"My wife and I are pregnant," Kimmel, 46, whose wife Molly McNearney is expecting the couple's first child. "We are having a baby very soon, as well."

"Oh, you're both having a baby?" the Third Person star asked sarcastically. "You and your wife are pregnant?"

Kunis, 30, looking pretty in the same black dress she wore to the movie's premiere Monday night, abruptly rose out of her seat and grabbed a microphone. "Hi," she said. "I'm Mila Kunis, with a very special message for all you soon-to-be fathers."

"Stop saying 'we're pregnant,'" she joked. "You're not pregnant! Do you have to squeeze a watermelon-sized person out of your lady-hole? No." Kunis continued, eventually rattling off a list of pregnancy woes.

"You're not pregnant," she added, as a group of pregnant moms slowly filtered onstage—each holding a tub of ice cream. "We are."
You hear that guys? Stop saying "WE are pregnant," because Mila Kunis said so.
It's perfectly acceptable to say something along the lines of "we're having a baby" though, but you are not, never will be and never can be pregnant.
Be the first to receive breaking news alerts and more stories like this by subscribing to our mailing list.