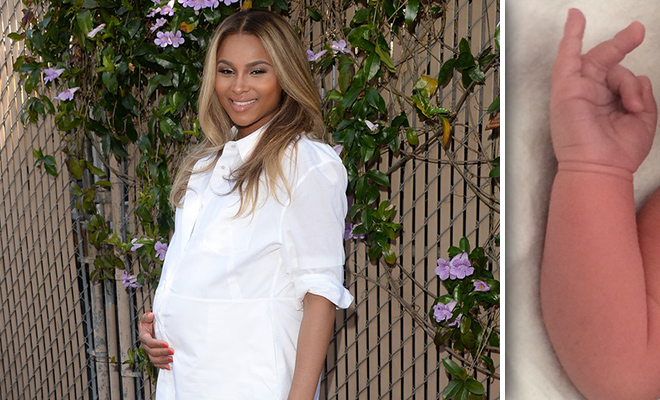 Ciara and her fiancée Future officially welcomed their first child together Monday morning (May 19) and the R&B singer confirmed the happy news herself via Twitter/Instagram, announcing the baby's name (Future Zahir Wilburn) and weight.
FUTURE ZAHIR WILBURN 9lbs 10oz May 19 2014 http://t.co/b2zQXEda13

— Ciara (@ciara) May 20, 2014
Page Six was the first to report that the 28-year-old singer gave birth very early Monday morning in Los Angeles.
When Ciara announced the baby's name, "Future Zahir Wilburn" became a trending topic on Twitter, with some users expressing confusion and others pointing out the humor in the newborn's moniker.
I just don't understand why Ciara named her son future zahir wilburn

— Urban Goddess (@Rhainaa_) May 20, 2014
WHY LAWD?!?!?!?!?! RT @CruzanChoklate girl, YES. pic.twitter.com/HDP7f2uJe7 Future Zahir Wilburn is his name.

— Awesomely Luvvie (@Luvvie) May 20, 2014
You had nine months to think of a name. RT "@ciara: FUTURE ZAHIR WILBURN 9lbs 10oz May 19 2014″

— Cold Cheese (@CloudProjection) May 20, 2014
Of course they did. RT @ComplexMusic: Future and Ciara welcome a new baby boy, Future Zahir Wilburn. http://t.co/7vVWhnpBDJ

— Russ Bengtson (@russbengtson) May 20, 2014
"Mr. Wilburn. You placed F. Zahir Wilburn on the application. May I inquire what the F stands for?" "Future." "We'll call you."

— baby faced esquire. (@kaytbaybee) May 20, 2014
Zahir Future Wilburn would've been better. She actin like a fan that lucked up and got pregnant by her #MCM.

— London. (@ilovenuney) May 20, 2014
Future Zahir Wilburn: sickest name. Sorry Rocket Man Williams, your time has passed.

— dostayevsky (@Yayyab) May 20, 2014
"Aww Ciara" & "Future Zahir Wilburn" are currently trending.

— Telejah Dean ?? (@Telejah) May 20, 2014
Why do people name their kids after something they won't have?????RT @MeganeiraM:???? "@JudasAffiliated: Ciara named her son: FUTURE ZAHIR WILBURN

— ???????? (@VoiceTooSmooth) May 20, 2014
Nigga. Ciara named her baby Future Zahir Wilburn.

— J I ? (@MissJia) May 20, 2014
I guess Future is better than Nativityscene, which is Future's real name. I guess she wanted some reminder of futures career for later.

— J I ? (@MissJia) May 20, 2014
Ciara and Future have been engaged since last October, and in January, Ciara announced on an episode of "The View" that they were having a baby.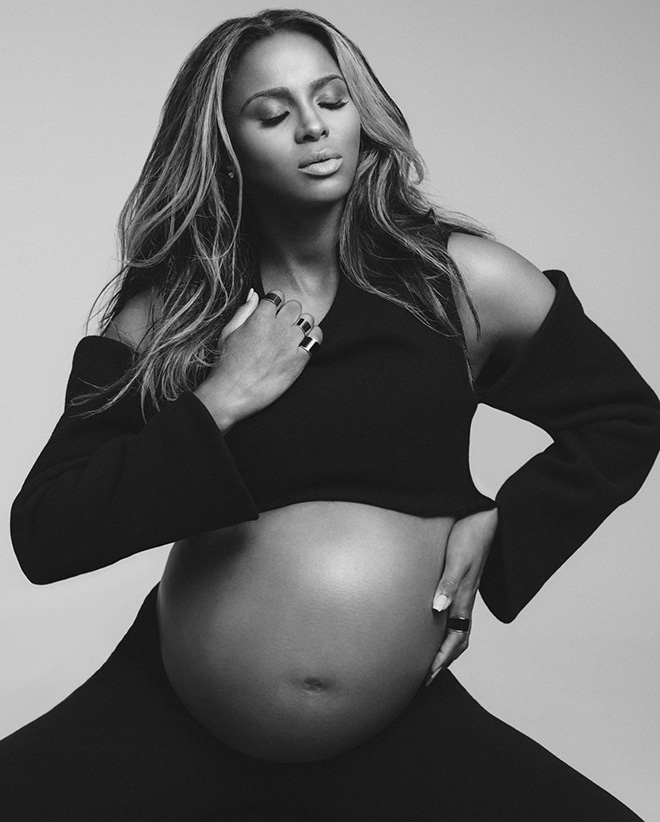 Ciara posed for W Magazine last month, showing off her baby bump and sharing her thoughts on pregnancy and parenting, including some helpful tips her BFF Kim Kardashian gave her, including "everything from breastfeeding to how a stroller works."
Despite finding her own fame and success shortly after graduating high school, Ciara said she isn't sure she wants the same for her children.
"It's a really hard world," she said. "If that's what their heart yearns for, then I'm down. I believe in allowing your child to be who they want to be — as long as they want to be something great."
She added, "You don't know your child until they get here. There is a lot of learning to do. I loved that advice."
Be the first to receive breaking news alerts and more stories like this by subscribing to our mailing list.